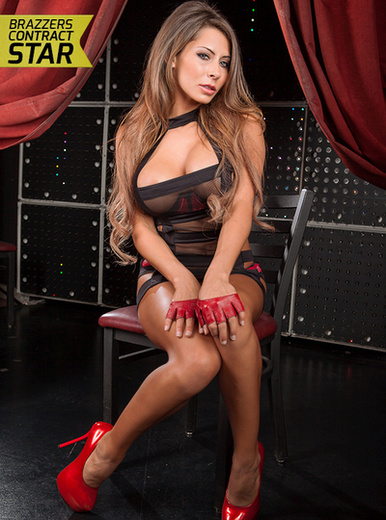 Brazzers' focus on intense anal scenes, poundings of a blazing speed, and lube-heavy explorations of every female orifice that can conceivably (if not realistically or naturally) fit a penis, tongue, finger, toe, or tool could be the reason only men have been signed to exclusive performance contracts by the ZZ offices (Keiran Lee, for example). Perhaps women were too easily scared off by Brazzers' reputation for physically demanding scenes and performances. But then, Madison Ivy is no ordinary woman.
Starting her adult career in 2007 at age 18, German-born, Texas-raised Madison Ivy won instant attention for her blonde hair, piercing blue eyes and a slim athletic figure that saw her somewhat typecast as a pigtailed "teen". After a solid five years in front of the camera, though, the Madison Ivy of today bears little resemblance to the fresh-faced greenhorn of 2007. More tanned than a Jersey Shore cast member, with more obviously supplemented breasts than Pam Anderson, and as fierce a devotee to the benefits of marijuana use as Tommy Chong, 2013's Madison Ivy is an all-sucking, all-fucking whoring machine. And she's also the very first woman to sign an exclusive contract with Brazzers, where it is presumed she'll be giving her fans and Brazzers members a gift many have been hoping for: her very first anal scene.
Congratulations go out to Madison Ivy and to Brazzers, but especially to the members and fans who'll be witnessing this spectacular performer's growth in what will undoubtedly be a highly visceral and thrilling fashion.