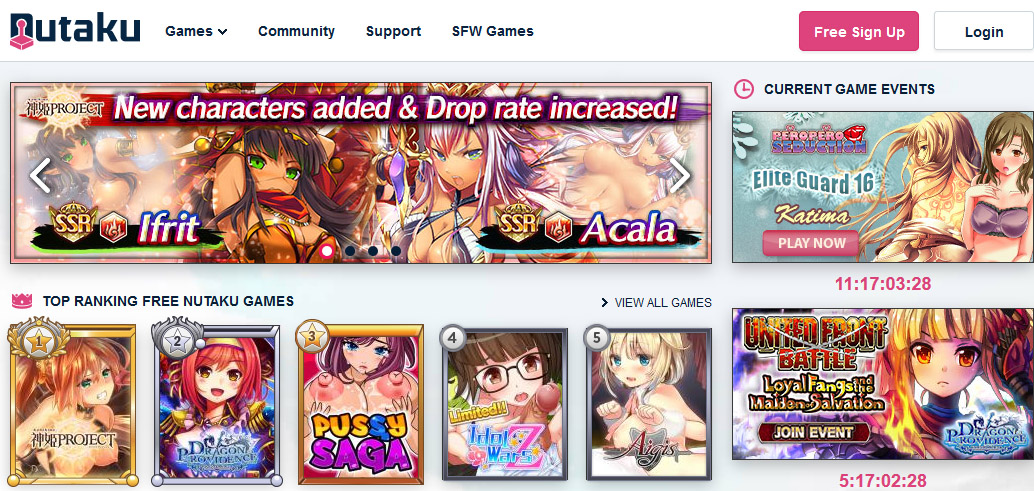 Having slowly but surely risen to a position of dominance in the entertainment industry after decades of dismissal and ridicule, video games are now considered both powerful economic commodities and intrinsically artistic creations. So, in that way at least, the Final Fantasy series is kinda like one of Mike Adriano's longer-running, high-numbered anal exploration series. There has been many attempts to meld adult entertainment and gaming to varying success over the decades. Now, with Twitch and Steam making online gaming more communal than ever, many adult gamers have been clamoring for a digital repository for the best in sexually oriented gaming from the thousands of designers and engineers trying to push the art form to its next level. That's where Nutaku comes in…
Nutaku acts as an eye-catching online games store in which almost every single title is of a seriously sexual nature. From RPGs and action-adventure to trivia, card, and puzzle games to massively multiplayer online fantasy worlds inhabited by nubile wenches with whom you can, if you play your gin rummy right, copulate. In three main categories – Browser, Downloadable, and Mobile Games – Nutaku provides something for every adult gaming fiend. Well, as long as your tastes align with hentai tropes, that is. Almost exclusively styled in the traditions of Japanese animation, the varying types of games allow for different levels of immersion, character development, and intricate plotting. The more basic games provide modest obstacles to be easily overcome and each success is rewarded handsomely by a wanton vixen. Other games reward your return visits to Nutaku and your continued dedication to a created character.
Fans of the classic Leisure Suit Larry series will recognize that character and game's influence here with most of the non-hentai Nutaku titles following a similar path to the myriad misadventures of that most famous of pixilated lotharios. Other more-Western offerings see card games with decks adorned with photos of known pornstars and loose parodies or lampoons of US entertainment properties. Mostly, though, it's hentai-style angels, demons, pixies, cyborg warriors, princesses, schoolgirls, and other feisty female sprites that you'll be gawking at, one hand on your mouse, the other who-knows-where.
Nutaku is free to join and, upon validating their provided email address, each member can freely partake of more than twenty free in-browser games or choose to spend Nutaku's currency, digital gold coins, which can be purchased for roughly USD 1¢ each, on downloadable games (from the current collection of 72). Downloadable games are priced between $1 and $45, most of the higher-priced titles being Visual Novel titles – essentially a manga/anime/hentai hybrid form. System requirements are posted with every title and generally allow for use on Windows and Mac systems, as well as occasional Linux support. In-browser games are presented via Flash and Java and should work flawlessly with latest versions of Firefox and Chrome.
One of the more unique aspects of Nutaku is the facilitation of discussion between gamers and game designers that aims to lead both parties towards a more fulfilling and enjoyable style of adult gaming. In fact, Nutaku is even tied to Kimochi, a crowd-funding site exclusively for adult game projects. We'll be taking a look at Kimochi's burgeoning breakthrough games. Until then, why not mosey on over to Nutaku and see what kind of trouble you can get yourself into, virtually speaking?