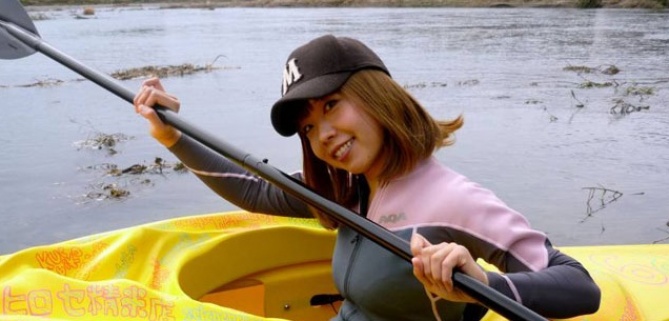 Megumi Igarashi, a Japanese artist keen on exploring taboo images of the human body's many marvelous forms and functions, has been arrested in Tokyo for the second time after authorities suspected her of sending a url "that shows her plan to create a boat using three-dimensional obscene data to a large number of people". Igarashi, who works under the name Rokudenashi-ko ("Good-for-nothing Girl"), was arrested on similar charges in July, charges relating to her efforts to raise funds for the production of a 3D-printed kayak made in tribute to her own genitalia.
"I don't believe my vagina is anything obscene," Igarashi told the press in July. "I was determined I would never yield to police power." Her most recent arrest could see Igarashi charged with 'distributing or holding obscene materials for the purpose of selling' and facing a 2.5M Yen or USD $21,000 fine and/or up to two years in jail. And all for showing a replica of her genitals to art patrons and audiences who, odds are, either have similar physical makeups or have seen such body parts up close and personal many times before.
Article 175 of Japan's Criminal Code, written in 1907 and remaining virtually unchanged in its present form, classifies depictions of pubic hair and genitalia as obscenity – hence the ridiculous pixelation of genitals in most Japanese porn – and could prove the undoing of controversial artist Igarashi, who is still being held even after the release of a women's sex shop proprietor also arrested in connection with the enormously controversial work. Denying her visits from anyone aside from her legal team, Tokyo police appear to be relentless in their pursuit of a conviction, but not necessarily because of any alleged danger the artist's work might pose to the public. Igarashi's attorney, Takeshi Sumi admitted that "Since the arrest last time, [Igarashi] has been very vocal in her cartoons and speeches criticizing police. They seem to have arrested her again [her third without being yet indicted] again to safeguard their integrity." Well, while it sure makes our local police issues seem like the fucking apocalypse in comparison, Megumi Igarashi's story is one we should treat with the utmost seriousness.
First they came for the 3D-printed vagina kayaks…