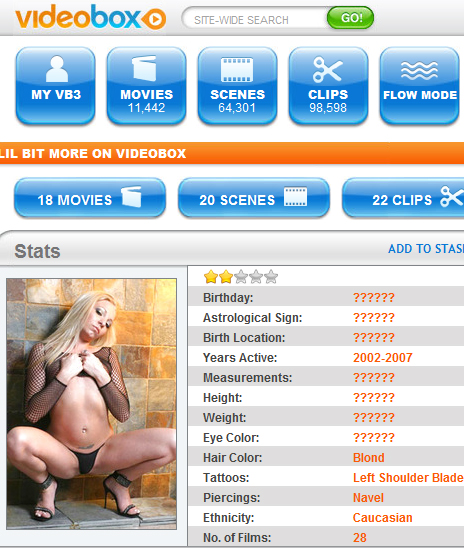 Can't get enough porn? Need just a Lil Bit More???
This week's edition of Mr. Pink's Wacky, Strange, Bizarre, Curious, and often Downright Funny Porn Star name of the week brings us Lil Bit More.
Mr. Pink needs to make it short and sweet this week. I have been so busy working on upgrades to Mr. Pink's Porn Reviews and I am hoping to unveil the latest version of the site later this week. There are going to be some sweet features added that I think you are going to love. Anyways, I'll always make the time to give you a Lil Bit More.
I'm intrigued by the stage name of this featured porn star I found after checking out VB3, the upgraded version of Videobox. Lil Bit More??? Does she need just a Lil Bit More money? Does she require a Lil Bit More man meat? Does she do just a Lil Bit More than most porno babes, as evidenced by the wild interracial gangbang scene featured at Videobox?
With a Lil Bit More information maybe we could all find the answers to these burning questions. I guess for now we just have to live with an empty profile page and 20 hardcore scenes on Videobox featuring this petite blonde.
Mr. Pink's salutes you Lil Bit More and your somewhat wacky porn star name. Gimme More!