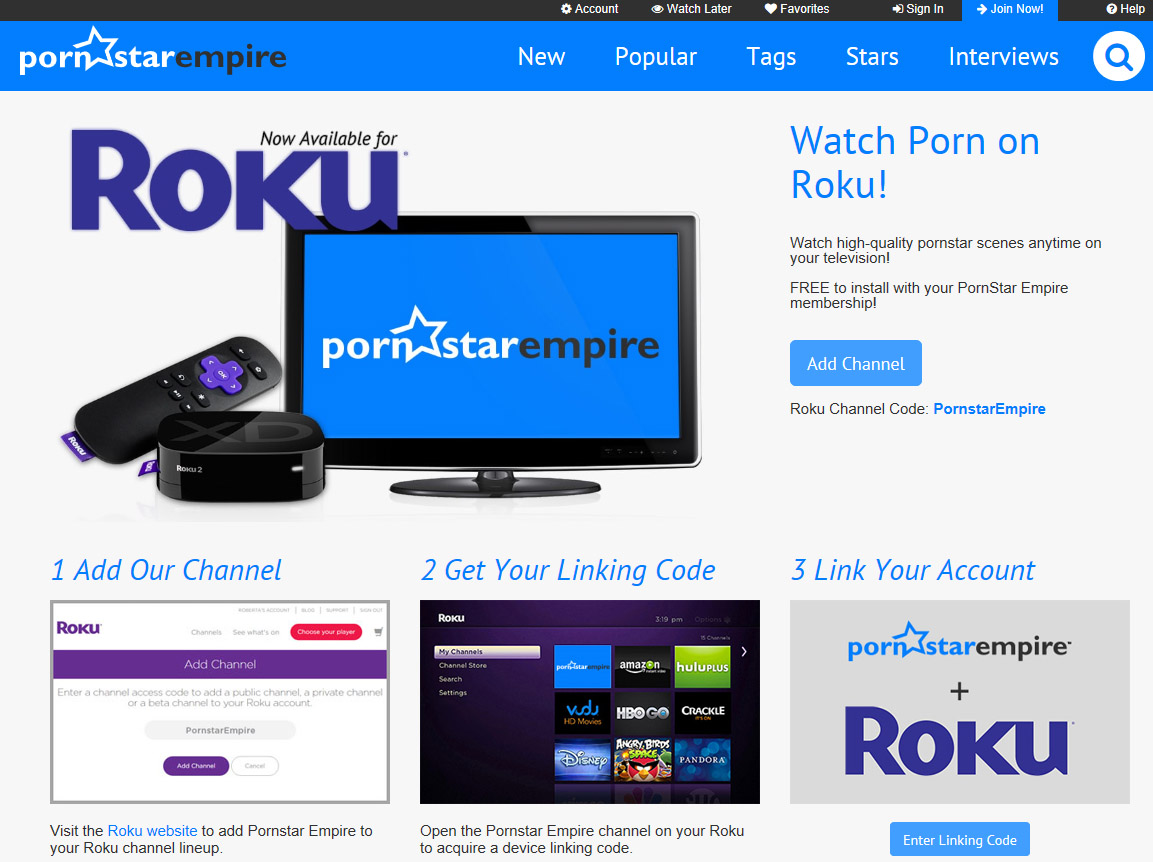 Last week at Mr. Pink's we perused the available adult Roku channels, from Vivid to Videobox, in the hopes that more and more readers will embrace TV-based porn streaming just as eagerly as many already have. Among those sites and studios putting themselves on the Roku system, Videobox, VideosZ, and SugarInstant have long reigned supreme, serving up wide ranges of porno on their very own streaming television service. All equipped with HD videos and breezy navigation, this trip form a solid foundation, yes, but one many viewers will want to expand from with kinkiness, carnality, and cock-hungry pornstars galore.
Pornstar Empire and Adult Empire (Unlimited) make a great pair, the former focusing on A-to-D-list pornstars and featuring quite a lot of exclusive content while the latter can be enjoyed as both as pay-per-view site or in its Unlimited form for endless smutty viewing. Again, both services pump hot HD smut into your living room. Studio streams from Reality Kings and Naughty America should have many Roku owners salivating. While RK does a decent job presenting a select range of its excellent reality-porn, Naughty America really takes the cake here: 360p, 270p, and 1080p HD streaming options support selectable network sites, pornstar profiles, and content from NA affiliates Tonight's Girlfriend and Perfect Fucking Strangers (though unfortunately no Virtual Reality yet). Infamous purveyor of celebrity porn, Vivid also leaps onto your Roku, bringing with it a bevy of alt.porn, parodies, educational vids, and hardcore sex. What Vivid does lack is information: models are left unidentified, activities un-tagged.
For anyone living with housemates or family members, parental locks on adult Roku channels are essential. Thankfully, Pornstar Empire and ScoreTV both offer pin-lock access prevention – although, for Pornstar Empire, the pin arrives after a screen load of naked boobage. Barely Legal and Hustler's Forbidden, on the other hand, give you the option of placing on your Roku home screen not a blatantly XXX channel icon but a generic 'CSB Tutorials' image that nobody in their right mind would assume leads to illicit entertainment. Vivid, too, allows you to use a SFW icon on your home screen, theirs being one large "V." (So, unless you've got a son named Victor, you should be in the clear.)
A few small snafus occurred during the writing of this here Roku porno roundup and most stemmed from unstable channels tossed into the online pornosphere with seemingly little quality control. Barely Legal's channel doesn't work with a standard Barely Legal website membership, but specifically requires a Barely Legal TV account in good standing; Vivid and Reality Kings lacked crucial onscreen information; Hidden charges may prevent you from watching movies on Sugar Instant and Adult Empire.
When you think back a few years and realize that streaming HD porn into your living room via a widescreen plasma TV (or whatever glowing screen warms your body on a cold night alone) was barely a conceivable fantasy, the current state of Roku porn is, for all its faults, missteps, and misguided attempts at multi-platform integration, well worth celebrating.