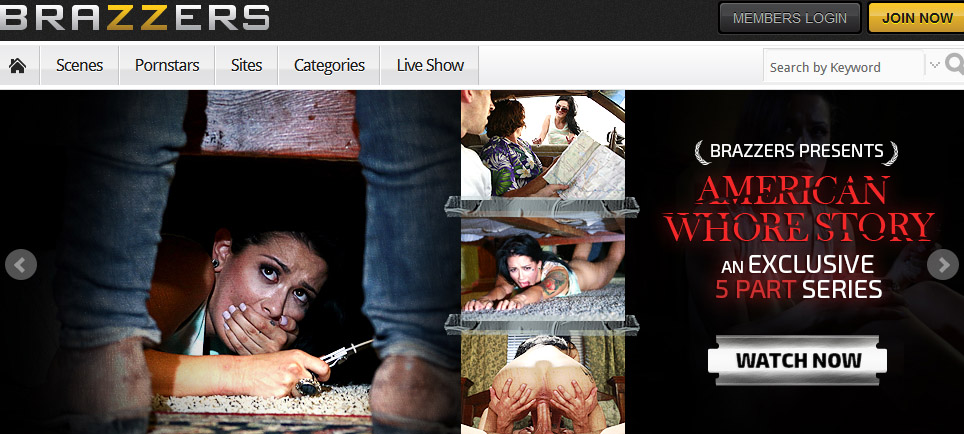 Brazzers isn't the kind of porn company to embark on any new venture with cautious reserve, so with Halloween on the horizon it was expected that the ZZ would throw its ample weight behind a unique celebration. This year it's American Whore Story.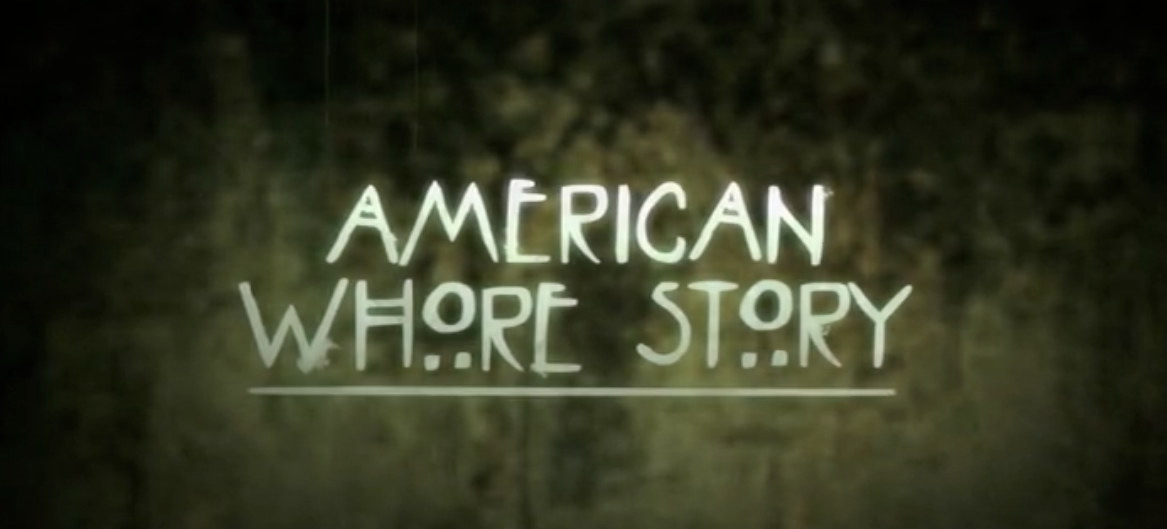 American Whore Story is a multi-chapter epic from Brazzers that sees pornstars Katrina Jade, Bonnie Rotten, Skin Diamond and Julez Ventura tackle horrific, treacherous situations all in the name of sexual adventure. Ably abetted by everyone's favorite expressively-eyebrowed male star Tommy Pistol, insanely-well-endowed Brit Danny D, and All-American boy-next-door Tyler Nixon (at least in the first three chapters), the carnally obsessed cast get to filling every available orifice regardless of the precarious situations surrounding them. In American Whore Story's first chapter (published last week at ZZ Series), Katrina Jade flags down travelers Tyler and Danny and successfully distracts Tyler from his original goal: locating a secret grave-site that held a mass of partial human remains. When she turns down the motel room light to get some post-coital zees, Katrina is terrified (as she should be) by someone at her bedroom door.
This slideshow requires JavaScript.
Part two of this Brazzers Halloween horror series sees Danny continue his ghost hunt alone, roping motel employee Julez Ventura (who's angling for a joint) into helping him locate his now-missing pal. Then, seemingly out of nowhere, he stumbles upon a bound and hooded Skin Diamond, wrapped in leather and placed on an altar. Freeing her, Danny is greeted by Diamond with a hysterical laughing fit before Ventura joins them, masked and cowled, and seduces our hapless hero into a metaphysical threesome that leaves him disoriented and confused when they vanish into a puff of smoke after draining him. But who's that mysterious dark-haired man seen in security footage walking the area with the missing Tyler and what does he want with our fellas?
This slideshow requires JavaScript.
Bonnie Rotten, arguably the most beloved hyper-sexual and endlessly elastic deviant in porn today, takes center stage for the third chapter of Brazzers' American Whore Story (due for release October 21st) but whether she provides any answers or simply poses more questions remains to be seen. Joining forces with the apparent mastermind behind all this insanity (that'd be Mr. Pistol), Rotten takes a railing in all three holes. But what exactly is her involvement and what has happened to Katrina Jade and Tyler Nixon to leave Danny D so ill-at-ease? Hop along, little pumpkins, to Brazzers site ZZ Series to catch the unfolding of this particular pornographic horror story as can only be told by adult entertainment's most notoriously epic studio.