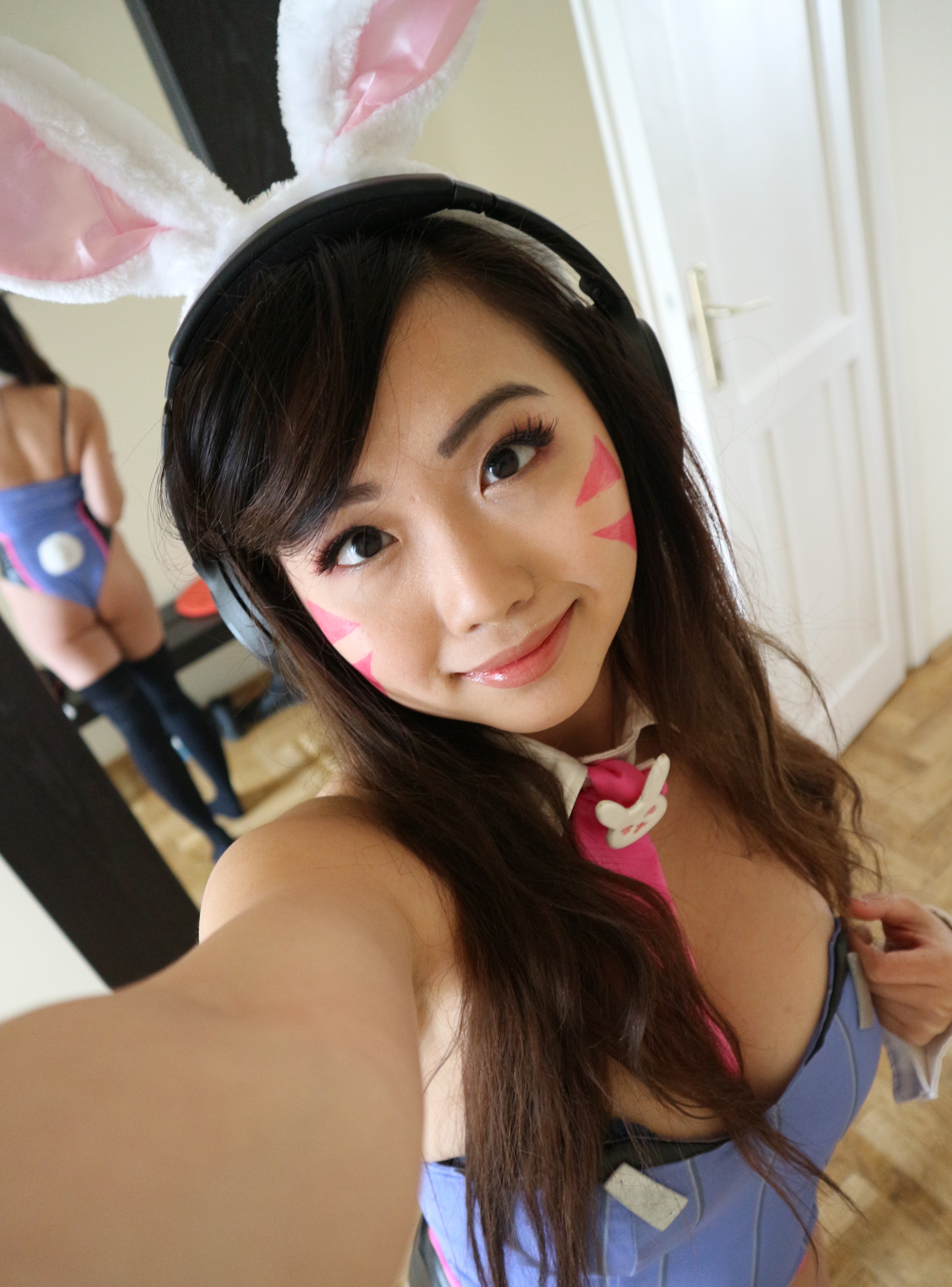 Harriet Sugarcookie, everyone's favorite new media minx and British-Asian geek goddess, has long lured in new fans, followers, devotees with her unique mix of homemade hardcore porn and topical lifestyle, sexuality, and entertainment articles, but now she's reigning in her more carnal side in an effort to branch out into new territory.
Don't fret, folks! Ms. Sugarcookie isn't leaving her hardcore roots behind or even removing her various A/V sexcapades from the 'net; she's merely limiting non-paying visitors to less explicit content. Recent updates prove this to be the case. Take the recent trailer for another of Harriet's costumed character romps, Cosplaying as D.VA from Overwatch: she poses and pouts for little over thirty seconds without flashing more than some cleavage and upper thigh.
(Well, that did do something…) Inside the members area, however, Queen Sugarcookie is in full self-love flight, tending to her nipples and clit with qual enthusiasm. Sure, she still leaves the costume on for the duration, but it's pulled back and aside to reveal a lot more than any SFW website can handle.
With the staggered arrival of a crew of comely lasses hand-picked by Harriet to share her screen space and adopt her name – Leila, Yumi, Hannah – as well as a few pornstar guest appearances, the Harriet Sugarcookie site is clearly keeping one hand firmly in the hardcore arena. And, man, should we all be glad. Harriet's fellow Sugarcookie girls are some of the hottest recent semi-pro finds in the world world and the POV-heavy, sapphic and swinging sex is a treat to behold.
What remains to be seen in this new phase of Harriet Sugarcookie's ambitious plan to become the 'net's reigning sexually-oriented new media maven is whether her growing legion of fanboys and fangirls can stand only viewing SFW previews while at the 9-to-5 or whether, risk of humiliating dismissal be damned, seeing Harriet peel her panties aside and invite you in for a much closer look will simply prove too hard to resist. Good luck!