Webcam performers once seemed content to be on the outer limits of the adult entertainment industry. Independent operators in many cases, part of a small business machine in others, women (and to a lesser extent men) have been placing themselves in front of a live streaming video camera and sharing various facets of their private sexualities with a worldwide audience. Many websites catering to the webcam aficionado appear and disappear, performers flitting around from site to site. Some of the more popular women, Kendra Sunderland for one, have transitioned to mainstream porn with great success, strengthening and expanding the appeal of camming as an occupation.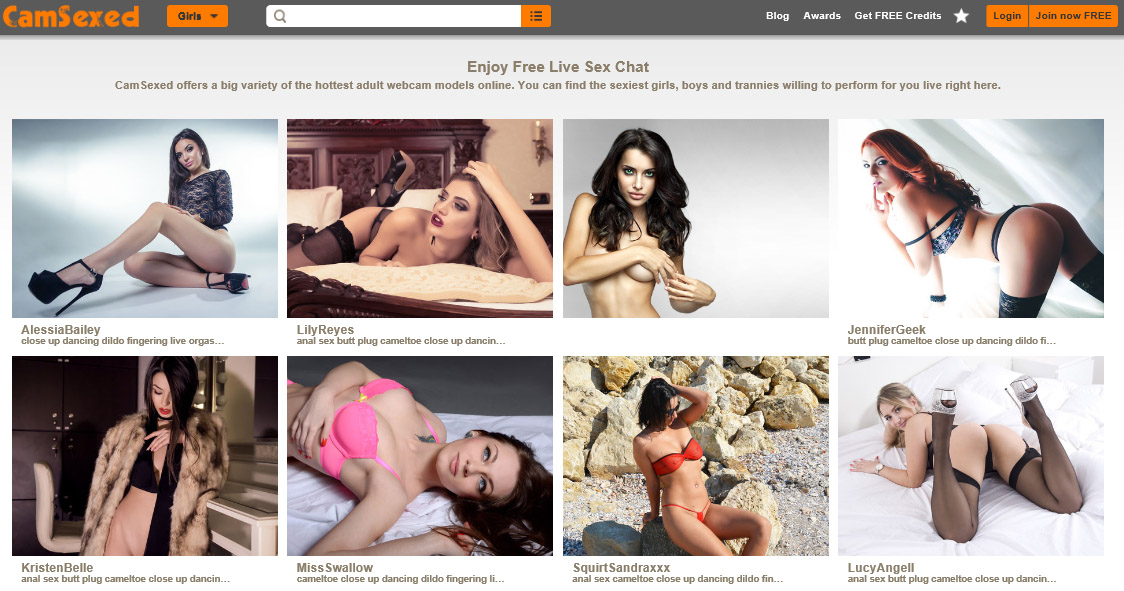 One new cam site that appeared on Mr. Pink's radar recently goes by the handle CamSexed and features an assortment of mostly European women, men, and and trans performers, all arranged for display on a clean members area loaded with features. Registration at CamSexed comes free and provides ten free "tease" previews that allow you to peek at a private show in progress. Five more previews are unlocked by validating your email address and, upon purchasing your first tokens, you're given a healthy bonus. Concentrating on the women – I can't help it; it's evolutionary – CamSexed has its live streaming fingers in many national pies… if you know what I mean. Busty Czech goddesses with filthy mouths. Twenty-one-year-old goth girls bathing for their audience. Classy lingerie-clad vixens with slow seductive technique. A brief glance at the main performer index reveals a strong range of attitudes, sexualities, styles, and approaches to camming. Of course, gaining visual access to the more revealing and raunchy parts of a live show will cost you, the going rate ranging from insanely affordable to way overpriced.
Flash-based photo and video galleries provided by each model deliver tease and non-nude pics as well as samples of their live performances. Viewers can tip models at their discretion, surprise their favorite performer with a paid emoji gift, take a snapshot of a special onscreen moment, vote for a fave's continued success, and even go cam-to-cam and show yourself off to your new online paramour.
CamSexed isn't the most advanced cam site around, nor does it offer the most detailed navigation system but its strong video presentation, bounty of free photos and clips, and very appealing discounts and bonuses, it's definitely one worth watching, especially if you go a little nutty for European vixens with great sexual imaginations at your disposal.