Having previously appeared as no more than another cast member in 2007's Glam Trash, Joanna Angel doesn't have a particularly extensive history with Penthouse. She is, after all, best known for her fierce independence and outlier status while Penthouse has long been accepted as part of the porno mainstream. That's all about to change, though, as the studio founded by Bob Guccione way back in 1965 has tapped the Burning Angel alt.porn maven to direct her first Penthouse feature – and it's already proving a departure from her usual knowingly schlocky comedy-porn stylings.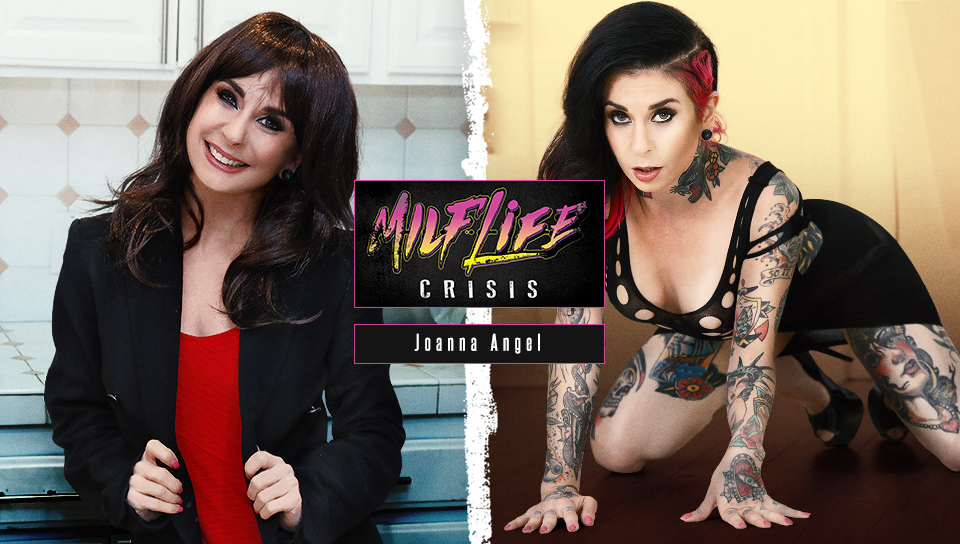 What originally started as a licensing meeting about bringing Burning Angel content to Penthouse's broadcast platforms soon turned a corner and had Angel proposing a film in which she pulled the already sexually declarative Penthouse Pets even further into sexual depravity – as is her wont and style. Drew Rosenfeld, Penthouse's head of production, was taken with the idea enough that it soon started to form into a reality.
Corrupted by an Angel sees everyone's favorite pink-and-black-haired heavily-tatted hardcore queen take on this year's troop of Penthouse Pets (Riley Nixon, Gina Valentina, Ryan Keely, Jenna Sativa), leading them further astray as she pushes them to further carnal (and dramatic) greatness. Ditching her usual male leads for a more clearly female-led story, Angel calls Corrupted a "girl-power movie" that she finds "really beautiful." Two major staples of any Angel production are nonetheless granted ample presence with music by Burning Angel dick-at-large and in-house poppy punk songwriter Small Hands and plenty of raucous girl/girl, boy/girl, and group sex (including mucho anal) to go around.
As Corrupted shows a more serious side of the usually goofy and ironically inclined director, it has proven something of a challenge for Angel. "This is a serious dramatic movie," she told AVN. "It's a touching story [with] some very sad moments and a lot of intensity – there's even some crying parts." Rosenfeld felt confident, however, that she had the skill and experience to pull it off. And the cast, of course, were perfectly fit for the job, Angel declaring them all "equally as slutty as one another," herself included.
Corrupted by an Angel is due in late September from Penthouse (through its new distribution deal with Girlfriends Films).