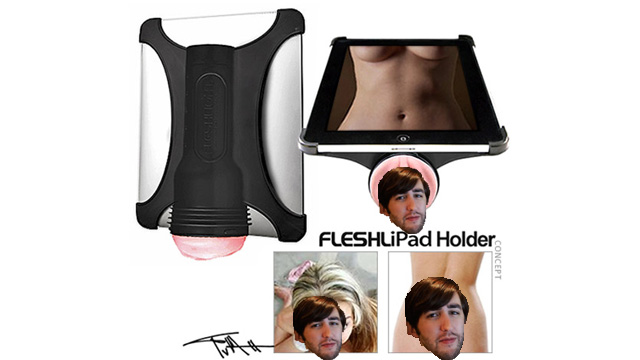 This year, notorious Kevin Smith-endorsed product, Fleshlight, took home two AVN Awards, Best Sex Toy Company – Large, and Best Sex Toy for Men, but the biggest news to come out of Fleshlight HQ of late concerns a brand new attachment that will finally enable Fleshlight users to pound the mouths, pussies, and asses of porn's hottest women in a far more intimate way than ever before.
Catching the eye of Gizmodo's Kyle Wagner, a prototype by TV Miller designed to allow the customer to "interactively reach self-gratification, with various prerecorded multimedia designed specifically for the tablet-penis interface," caused a stir and led to an exploratory article by Wagner that reached Fleshlight HQ down in Austin, Texas. Fleshlight COO Brian Shubin responded by confirming that the product is in development but refused to provide any additional details at this time. "It's another exciting product we have in development at the moment. We are always looking to improve our user experience and this will be a way to take it to another level."
Although a release date hasn't yet been confirmed of even hinted at, Shubin did tell eager technobaters to keep checking back with Fleshlight for updates. Fuckable iPads… who'd a thunk it?! In fact, with a bit of imagination and the right tools, as this photo from Gizmodo commenter Randy Sexer shows, you could already be in vicarious fucking heaven… or something.