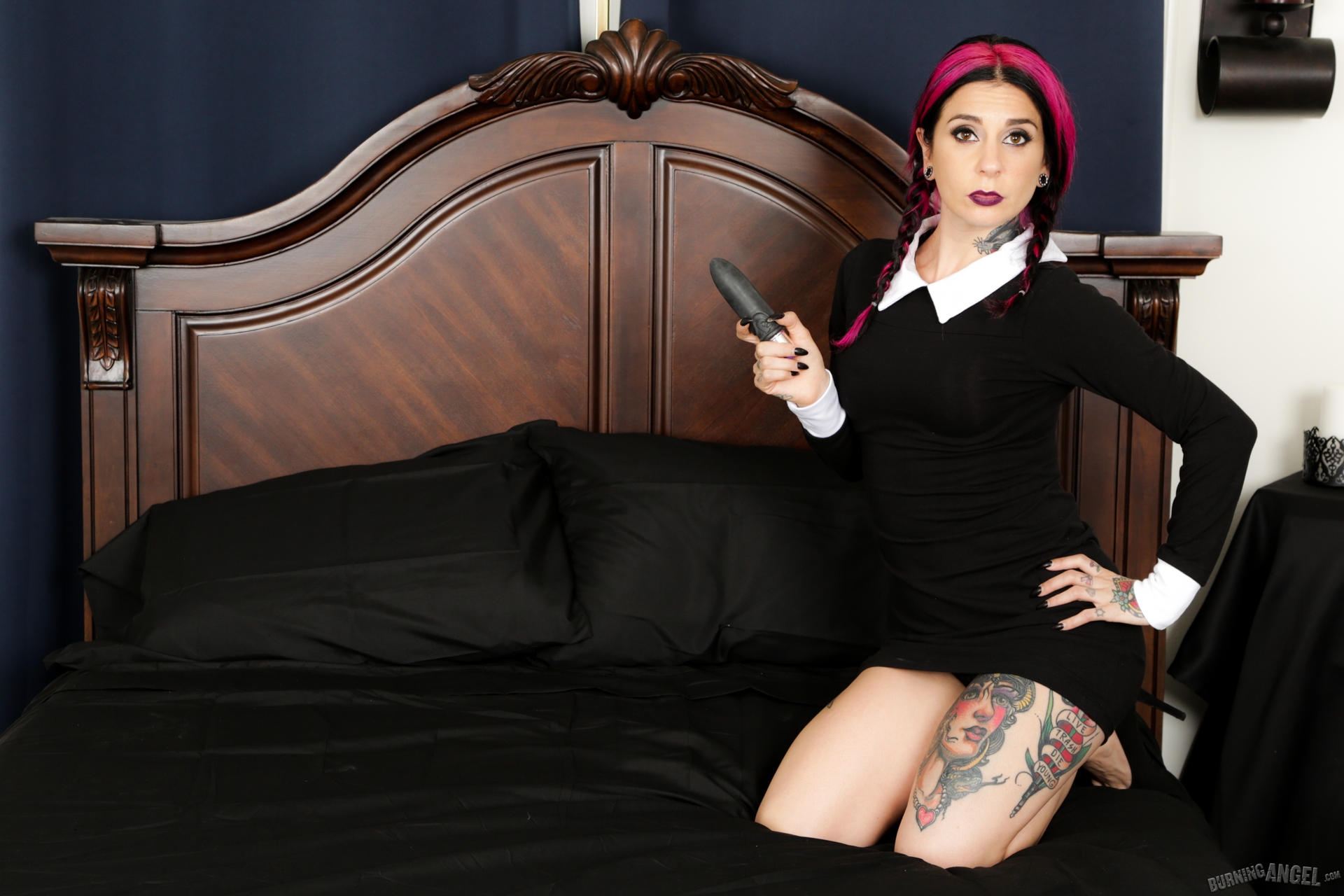 Joanna Angel's 13th year as the driving force behind Burning Angel has seen the company nestled comfortably among the most interesting and inventive porn outfits working today, even after outside challenger Wood Rocket appeared with total lunacy as their M.O. Now, with nominations announced for the 2016 AVN Awards and her an allegedly abusive former flame now exposed to his previously adoring public (more on that soon), Ms. Angel's 2015 seems to be ending quite beautifully indeed. And it's not just one or two crucial nominations that should have all at Burning Angel popping bottles and laughing in the face of their most paltry competitors, alt.porn johnny-come-latelys, and would-be indie-porn revolutionaries, but an incredible 28 nominations for her and her Burning Angel cohorts. What did BA do this year that deserves such recognition? Well, quite a lot, actually.
Angel, who's also due to co-host the 2016 AVN Awards with Anikka Albrite come January, saw herself snag individual nominations for Best Director – Parody (for Making the Band), Best Web Director, Mainstream Star of the Year (which, if won by our favorite punk rock pornstar, would signify quite the sea change in public perception of "alternative" style and identity in porn), Best Porn Star Website, and, In a featured but clothed role, Best Non-Sex Performance (Dirty Deeds for Wicked Pictures). Along with fellow scribes D Nothing, Kara Pond, and Randy Stoker, Angel was recognized for her inspired writing of Dude, Am I a Slut? and Killer Kleavage from Outer Space. Throw in a nod for her part in Making the Band's incredible rock 'n' roll orgy (Best Group Sex Scene) and Joanna's doing pretty god damn well for herself this season.
Not to be overshadowed by its creator and guiding light, Burning Angel racked up a slew of nominations: two for Best Amateur/Pro-Am Movie (It's My First Time and It's My First Time 2), Best Anal Series and Movie (for Rock and Roll in My Butthole 5 and the series it belongs to), Best Anthology Movie (Fuckabilly 3: Pin-Up Pussy), two for Best Comedy (Killer Kleavage again, and Slumber Party Sluts, Best Continuing Series for POV Punx, Best Interracial Movie (Big Black Dicks and Tattooed Chicks 2), and, among a handful of others, Best Marketing Campaign – Individual Project for the headline-grabbing Ronda ArouseMe: Grounded and Pounded. Special mention should also go to Twin Peeks (aka Tommy Pietch), Burning Angel's resident makeup genius, nominated twice this year for Best Makeup for his remarkable work on Killer Kleavage and Comic Book Freaks & Cosplay Geeks, both of which saw him turn everyday pornstars into the bizarre (and bizarrely arousing) creatures. And comic convention attendees.
Ever the gracious recipient of accolades, Angel had this to say in response to her and her company's nominations: "I am incredibly happy that our nominations spanned over so many different categories. In addition to our parodies and our features, our Pro-Am releases, our POV movies and one of my favorite all- sex lines that we have, Rock and Roll in my Butthole was given attention," Angel has said. "BurningAngel has been a labor of love for me for the past 13 years and I am so thankful for the success we have. I look forward to a kick ass show in January!"
Fan voting has opened at AVN HQ and if you've been as impressed as I with the output of Joanna Angel and her merry band of fucking freaks during 2015, why not show your support by casting your votes accordingly.