The US adult entertainment industry has always welcomed foreign talents whether proudly Italian like Rocco Sifreddi or indeterminately Asian like Alina Li. Viewers were shocked, however, when the what is arguably the world's most popular and prominent adult vendor, Brazzers, put almost its entire operations behind the penis and sexual performance of one man, the man with the million-dollar dick, Keiran Lee. "Who is this curiously-accented cocksman, where did he come from, and why is he taking over Brazzers' dick duties?" That was 2008. Now, a lot has changed and Mr. Lee is not only one of the most respected male performers in the business, he's proving quite the superhuman addition to the Brazzers family. After signing an exclusive contract with the company around 2008 then sticking around to develop his directing skills, Lee has gone from fledgling stud to one of the most admired on-screen men in porn. Brazzers must be happy with the man's work, too, since the studio has just celebrated his contribution with a 1000th scene gala event that sees Lee plow Nina Elle, Chanel Preston, and Jasmine Jae, who also regale audiences with anecdotes from their previous encounters with the the milestone man.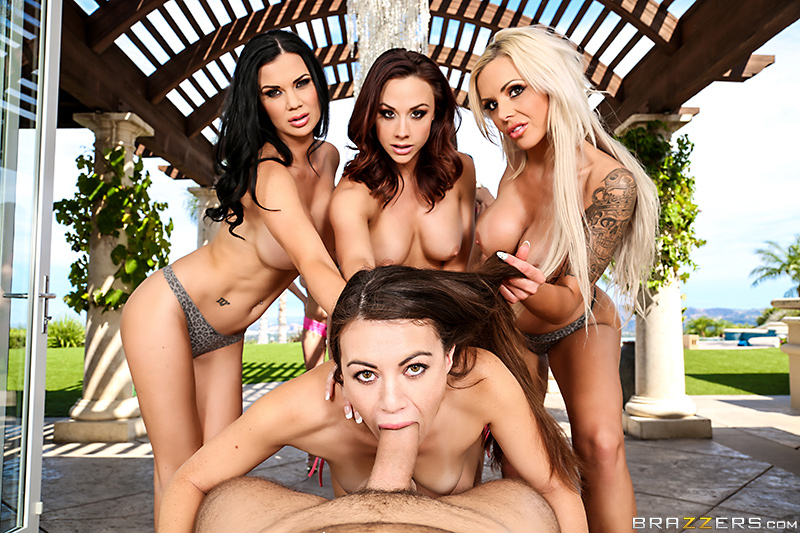 After Nina tells of a Keiran-broken fingernail that caused sudden blood gushes, Jasmine clues us into the man's distaste for cotton balls and navel play, and Chanel admits she was "a cunt" when they first met but soon warmed to the ever-reliable stud, who she claims can perform more than capably under the most absurd conditions (110° heat, against a cactus, on a motorcycle etc), we tour through the cavalcade of characters Keiran's played over the years before he steps onto set and meets his trio of favorite females. The ladies, in turn, have a surprise for him and bring out a string of eight open-mouthed ladies (Tiffany Doll, Dava Foxx, Mia Austin and some deft-tongued babes), some veterans and some newcomers, to all slobber on our boy's head and show their appreciation for his solid work. And you, you can show your appreciation too – you know how.
Brazzers celebrates the 1000th scene of the studio's top performer/director (with Nina Elle, Chanel Preston, Jasmine Jae) at Brazzers Extra. Mr. Keiran Lee of Derby, England, husband of Kristin Price and owner of the world's most highly valued penis: This is Your ZZ Life!