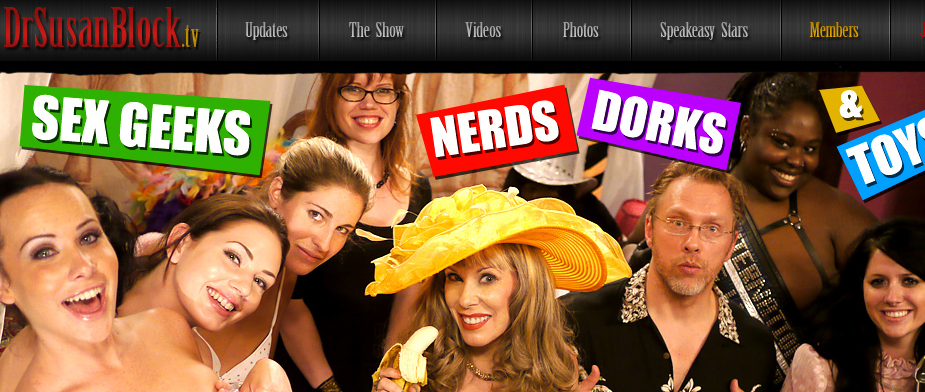 Internationally renowned sexologist, author, advocate, and all 'round swell woman, Dr. Susan Block is tonight hosting another of her weekly live broadcasts from her Womb Room studio in downtown Los Angeles and, like most of her shows, this one looks like a hot 'n' horny hootenanny if ever there was one. Joining Dr. Suzy for the live radio and webcam video show tonight is Rebekah Nazarian, general manager of the lesbian adult entertainment company Filly Films, and two of her most prominent performers, Sinn Sage and Dana Vespoli. Talking to AVN, Nazarian calls Dr. Block someone she can look up to, saying she sees her as "one of those 'Kinsey Revolutionary' type of people." Clearly a little intimidated and nervous, Nazarian also speaks of Dr. Suzy's request for her to bring a strap-on dildo to the broadcast, not to giveaway, but hopefully to incorporate it into the show, which will also feature pornstars Sasha Sweet and Sheena Ryder, both of whom would most likely be quite at home strapping on a fake dick and going to town.
As no stranger to controversy herself, Dr. Suzy often invites on her show guests that would otherwise miss such an important chance to discuss their (usually) unusual field of expertise. Tonight's show will welcome transsexual porno superstar and equestrian, Morgan Bailey, and an anonymous "Saudi dignitary" whose identity will not be revealed to ensure his safety from prosecution. And, in a week that has already seen Iranian actress Marzieh Vafamehr sentenced to a year in jail and 90 lashes for appearing in Iranian-Australian film "My Tehran For Sale" without a traditional hijab head covering, such a threat seems very, very real. Intense stuff!
Like all of Dr. Suzy's Speakeasy shows, those in the Los Angeles area can attend. For ticket information, follow this link and, like Dr Suzy always says "make love, not war" and do it the Bonobo Way.