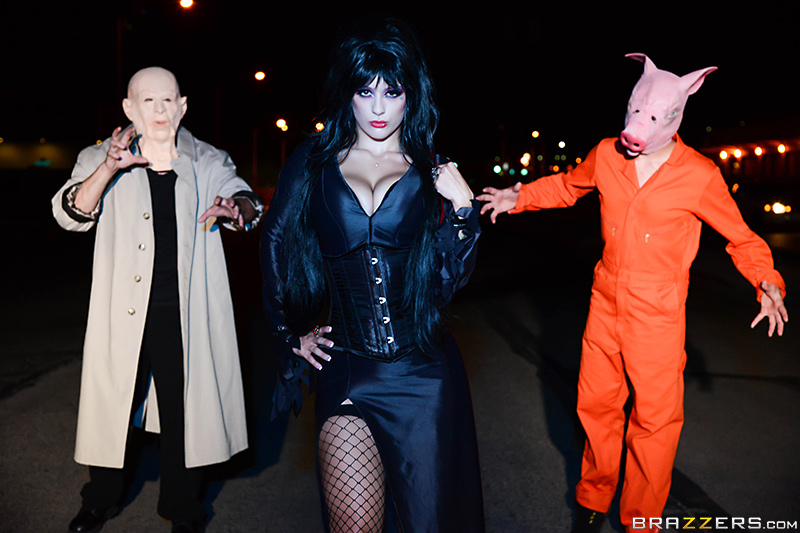 At this time every year, we in the porn world enjoy a brief deviation from the styles usually employed on-set and on-screen. With Halloween just around the corner, pornstars are no longer turning up to shoots in yoga pants and bralettes, instead hitting Spencer's Gifts in search of the scariest (or is that sluttiest?) costume around to dazzle porn viewers with a Halloween fantasy they won't soon forget. Some sites and networks jump on the Halloween train pretty damn early while others wait until the evening of the October 31st. Brazzers, one of porn's more legendary production outfits, falls somewhere in between, leading into Halloween week with a tantalizing minor terror and lining up a lot more sexual insanity before All Hallows' Eve finally shines its full moon down on our mortal souls.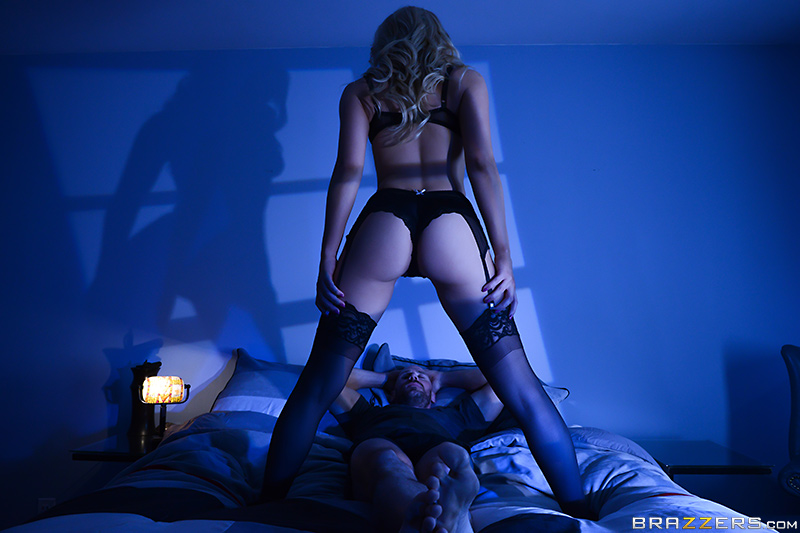 One week before the ghouls (and girls) come out to play, Teens Like it Big saw sultry blonde Staci Carr star in the first chapter of multi-part Halloween special, It Swallows. Johnny Sinns' various booty calls are unavailable and his last conquest has mysteriously died, only now her spirit straddles his boner like a succubus after three Vodka-Red-Bulls. Shot in a dark, anxious atmosphere with filtered moonlight pouring in through the windows, Carr drains Mr. Sinns with otherworldly skill. It Swallows: Part Two is due to hit Teens Like it Big the day before Halloween and this time will see Piper Perri searching for former lover Johnny Sinns who died under curious circumstances and left her alone and horny. Oh, but what will the midnight breeze blow in through Ms. Perri's window but the stiff-dicked soul of her dearly departed? Carrying over the gorgeous 'midnight' photography from part one, the inclusion of this particular petite blonde should make for some steamy inter-dimensional smut.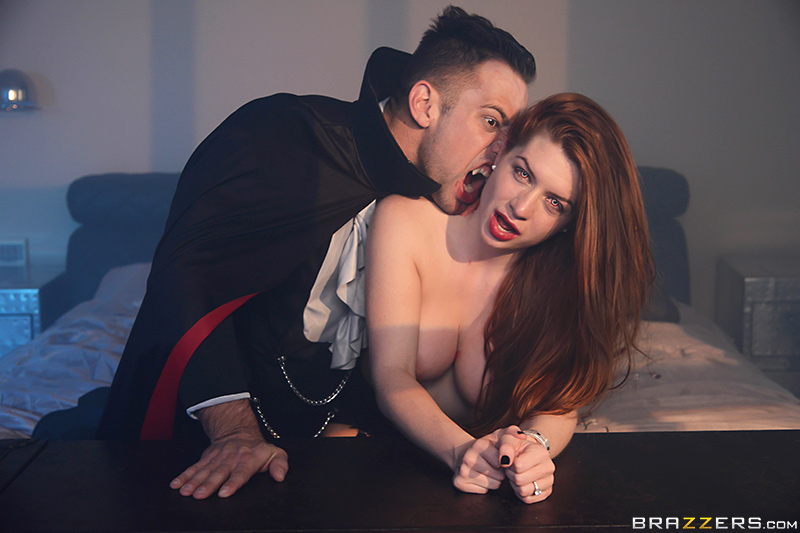 Not one to simply dabble in a theme or style, Brazzers again takes Halloween further than any other porn sites, lining up another pair of dynamic horror-tinged fuckfests before the Trick Or Treaters beat down your door. This time the featured performers (or should I say victims?) are "Wall Street Porn Star" Veronica Vain and hot new fan-favorite Katrina Jade and each is given a concept worth every pixel of its 1080p HD videos. Ms. Vain is bored at Real Wife Stories as she waits for her husband to get dressed for a party. Slumped on the sofa, hubby stays downstairs while his wife lays down and dreams of a lover, who appears in the form of a classically-styled vampire (Johnny Castle) and promptly takes her to a whole new level of fluid exchange in Fucking With A Vampire. Katrina Jade's Pornstars Like it Big scene carries the tittle 'Midnight Titty Madness' and sees the tattooed brunette channeling Elvira, Mistress of the Dark and putting her 'two big pumpkins' to work keeping horrifically costumed psycho-cocks Bill Bailey and Jesse Jones hard and thirsty and eager for fun.
Whatever you do on Halloween, it's not likely to be as fun and nowhere near as wild as the scarily sexy treats Brazzers has in store for you.