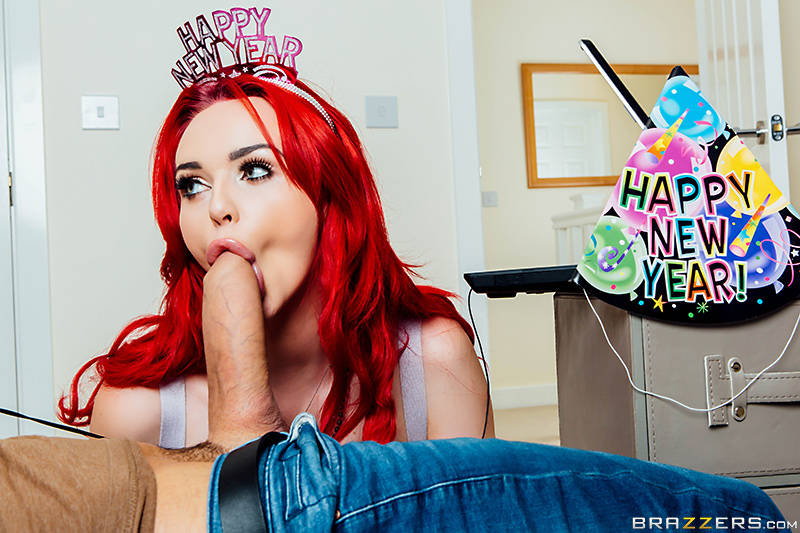 New Year's Eve has something for everyone: romantics can flit around a party hoping for that dreamy midnight kiss, curmudgeons have even more to complain about than usual, drunks are supplied with all the booze they could want, and the most sexually eager of us have plenty of opportunities to present themselves as the first of a year-long string of good decisions. Then again, with many NYE revelers left feeling not only hungover but generally disappointed in the party, the people, the moment itself, perhaps a New Year's Day pick-me-up is what's required. Something to steady your stomach, stiffen your dick, and lift your spirits, sir?
Brazzers is never a no-show to a party and this one is no different. Quietly popping online yesterday as a NYE warm up, MILFs Like it Big invited a super-busty British redhead to its NYE party and then made the mistake of letting her get bored. Jasmine James shows what can happen when a lonely and bored woman starts opening her host's bedroom doors during a raucous NYE party only to find a college-aged Chris Diamond beating his meat. "Now here's a party game I can get behind," she thinks and starts her 2016 off to a rather felatious start, wearing a little 'HAPPY NEW YEAR' tiara the whole time!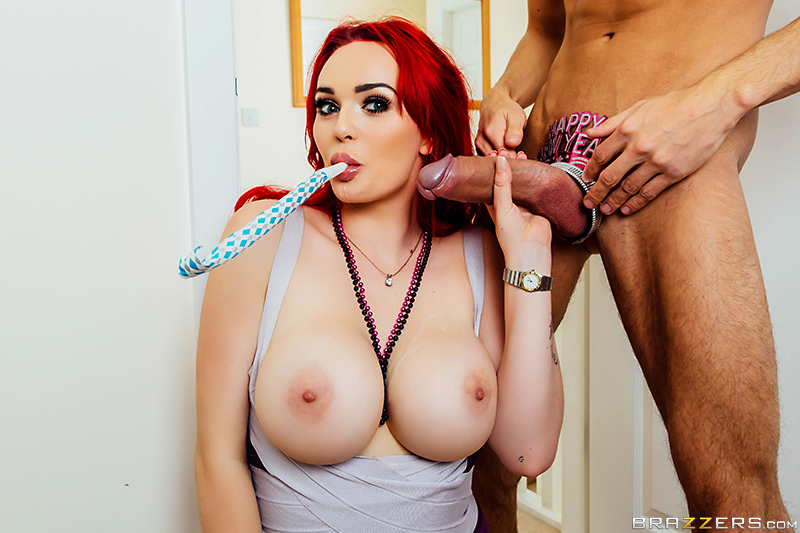 Pushing the partying even harder, though, is Naughty America site My Friend's Hot Mom. Not content to lap up the attention and gratitude given the host of a successful party, Julia Ann finds herself flirting with Eva Notty. Whisked off to a spare bedroom, Eva soon finds Julia's advances irresistible (but quite surprising since they're both allegedly straight), only to have the throes of their liquor-ignited passion interrupted by Axel Aces. Hell bent on preventing their guests from finding out about their little tryst – why? who cares? be yourselves, ladies! – the pair of MILFy sexual mavens ensure his silence with some attention all his own.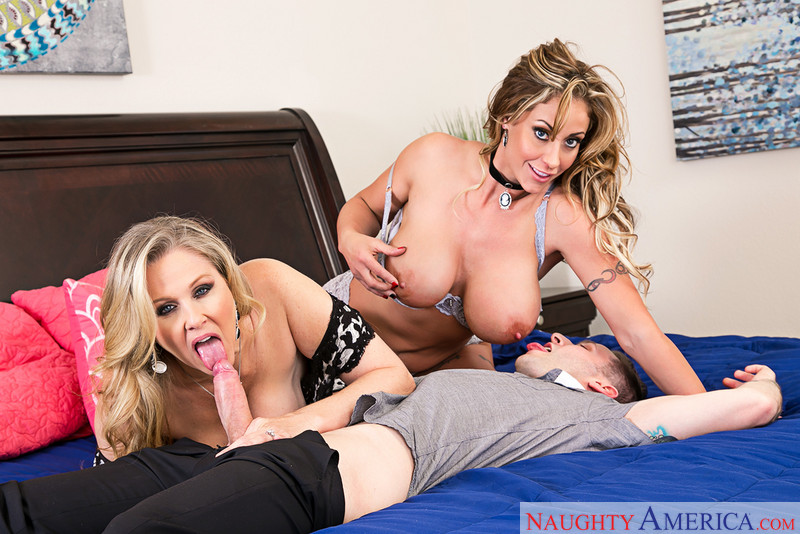 Now, if this pair of New Year's porn updates don't have you looking at the rest of 2016 more fondly, perhaps they'll give a little perspective and put your own erotic pursuits on the right track. Or perhaps they represent mistakes of the past year, opportunities not seized or shitty situations let stand. Either way, as you contemplate the year ahead and at the very least start 2016 off with a self-applied orgasm with Brazzers and Naughty America as stimuli, remember to keep your thoughts, your desires, your very 2016 firmly in the Pink.
Happy New Year!