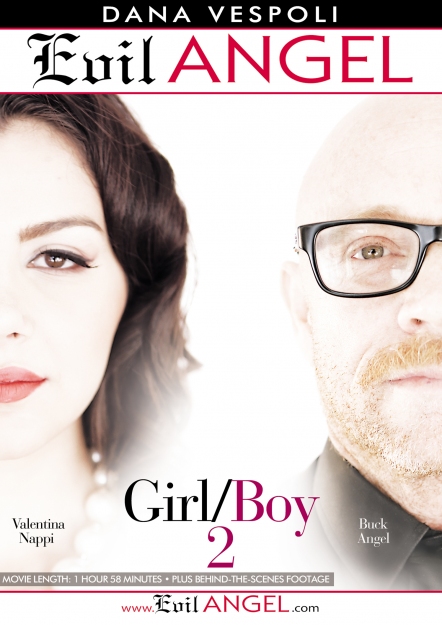 Ever since she started producing and directing porn, creating her own concepts and style, Dana Vespoli has been pushing boundaries. From lampooning the sharing economy with ScrewberX, shooting female-POV pegging scenes, and bringing fans into an intimate space with her Real Sex Diary series, Vespoli's sexual imagination seems unbound by the accepted standards of the industry, the audience, or mainstream society at large. Her latest directorial effort is bound to confound and confuse many would-be fans, invite a whole new audience into the Evil Angel world, and arguably cement Valentina Nappi as the most mature, intelligent, and respectable pornstar currently working.
The sequel to Vespoli's 2013 release Girl/Boy, a title which saw gender-bending, cross-dressing, and transsexualism playing a central role in the sordid affairs of Ms. Nappi, Manuel Ferrara, genderqueer performer Jiz Lee, and Vespoli herself, the upcoming Girl/Boy 2 pushes things even further into the muddled world of gender fluidity. Joining the returning Ms. Nappi and Jiz Lee are Marcus Dupree, Sovereign Syre, Venus Lux, and one of porn's most controversial, challenging performers, Mr. Buck Angel.
A trans man, producer and director, acclaimed performer, and valiant defender of sexual freedom, Buck Angel has seen some crossover success with documentaries and television series focusing on his life and work. He has made very few appearances in genuine mainstream (read: mostly hetero) pornography, though, directors perhaps not knowing how to frame a man with genitalia usually regarded as female. Buck's pussy doesn't go to waste when paired with Nappi, one of the most enthusiastic fuckers of men, women, and trans people porn has seen in years, and they share mutual masturbation, they sixty-nine, they make-out passionately on the sofa.
Vespoli surely knew she was courting controversy with Girl/Boy 2 and pairing of Nappi and Angel. Already Nappi and Angel's Instagram followers have started bitching and moaning about the pairing of a trans man and one of porn's current breakout superstar women. Let 'em, say the performers involved, as they turn online complaints into a call to open-armed sexual and gender acceptance. This is brave, bold, original pornography, y'all, and that often seems to be relegated to low-level fetish sites and small-scale semi-pro studios. Seeing Vespoli, Nappi, Angel, and Evil Angel tackling such a risqué subject is about all the proof this reviewer needs that these are among the most vital voices in porn today.