The end of this month sees the 28th birthday of one Sasha Grey, former pornstar, current who-knows-what, and alleged mainstream crossover success, and to celebrate Evil Angel is releasing a showcase DVD compiling the best, most fierce performances of Ms. Grey's illustrious career. Shot by different directors over a few years, Evil Angels: Sasha Grey sees the infamous teenage superslut indulge in straight and lesbian sex, the latter aided along by director/co-star Belladonna in what is undoubtedly on the most intense scenes of either woman's career. Five other directors lent their hand to capturing these scenes of Sasha choking on dicks black and white and plastic, smashing her face into another woman's labia, requesting a gut-punch during an extreme fetish-focused orgy, and otherwise proving herself totally in charge of her own sexuality, confronting and abusive though it may seem.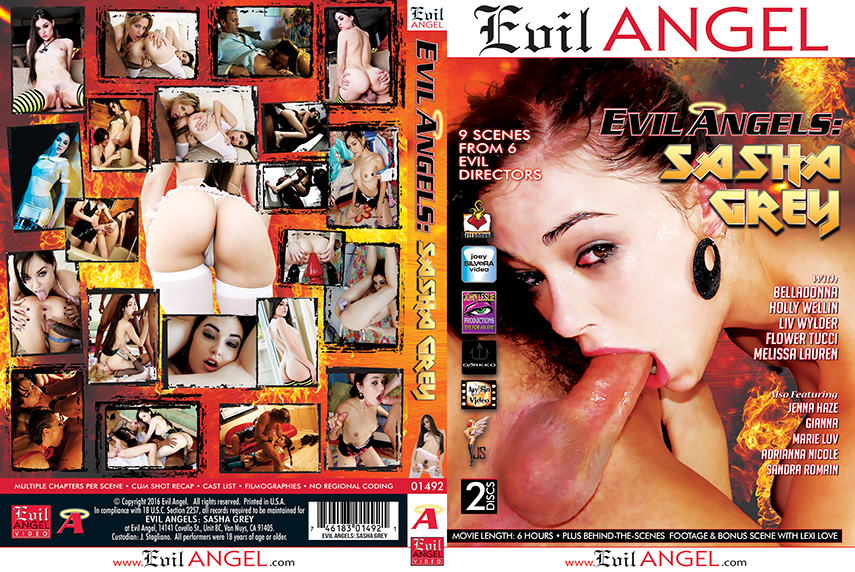 While it's a little disappointing that Evil Angel apparently cannot be bothered to give the non-HD scenes an HD upgrade, leaving them looking like relics of yesteryear, some fans might argue that there was a time and place for Sasha Grey and this compilation captures her (and it) perfectly, grungy resolutions and all. Evil Angel's Justin Rich calls the release "A greatest hits package from the peak of Sasha's career." A career Rich also claims successfully crossed over into movies (The Girlfriend Experience) and music (aTelecine, Current 93, Sasha's non-porn work has reached a much smaller audience than the work highlighted by this Evil Angel release. Ever listened to a band called aTelecine? Are you a longtime Current 93 fan who wishes one-time members Andrew WK and Sasha Grey split off into a subgroup concerned solely with writing porn-and-partying jams? Nope, then aside from having an A-list Oscar-winning director (albeit one known for occasional bombs) cast her in a super-low-budget indie feature, I'd say Sasha Grey's porn career is about as close as she's come to mainstream popularity. After all, it's no secret that many porn viewers won't admit to it publicly and, at one point, no adult performer was more Googled than Sasha Grey. And, while that's certainly not the case these days, Evil Angels: Sasha Grey should do a damn good job of reminding us all what the reign of Sasha Grey was really like. In a word: flabbergasting.
Evil Angels: Sasha Grey is out March 28th from Evil Angel Video.