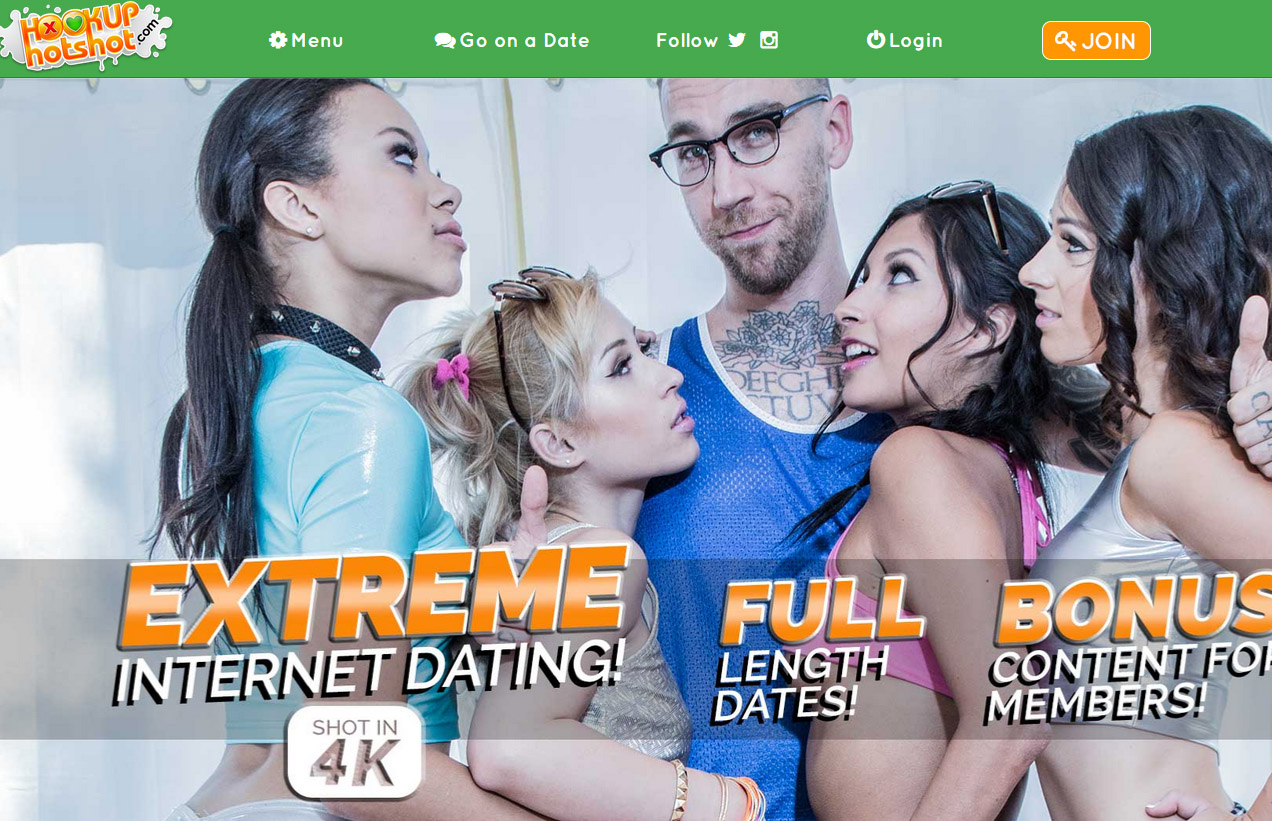 When is size not all that important? Well, never, really. And definitely not when it comes to porn sites that ask you to pay regular monthly access fees. In that instance, size is usually of the utmost importance, but not today. In this here Beating on a Budget! we're looking at a site that, although small in size, has already made significant waves in an industry that claims to have seen it all. However, the site in question, the work of a director/performer calling himself Bryan Gozzling, a guy of whom most people would jump at the chance to shout "Hipster," just happens to be more one of the most intense new takes on porn in recent years. I, Mr. Pink, present to you, dear reader and devotee of on-screen degeneracy, Hookup Hotshot.
Launching mid-2015, Hookup Hotshot quietly started turning heads the WWW over. Casting new girls on the cock, such girls as Sadie Pop, Jade Jantzen, Liza Rowe, and Aria Alexander in almost aggressive male-dominated hardcore sex scenes, Gozzling guarantees his guests turn in performances of a caliber they won't produce for other sites. Initially recruiting his conquests through social media platforms and shown on-screen via animated text bubbles, Gozzling soon courts his hungry-cunted gal pal back to his place and proceeds to instruct her in the art of pleasing a deviant, utterly perverted man. Spitting in their faces and jamming his hands inside their various orifices before even exposing his dick, Gozzling proves an intense, commanding performer. His style won't suit everyone – especially those heavily into "romance" or "couples" porn – but those eager to see today's current crop of cock-riders in their messiest and most degenerate scenes yet cannot ignore Hookup Hotshot.
THE MATH:
As mentioned earlier, Hookup Hotshot isn't exactly overflowing with material, not after less than a year online, but there is a deal in place that will whisk you inside for a riotous good time at an irresistibly affordable price. The regular monthly price of $29.99 has now been lowered to just $14.99 for a limited time, but that's not the only deal going: $5 for 5 days' access is a great way to sample Gozzling's fare without major commitment, and if you sign up for tri-monthly billing your cost goes down to just $13.33-a-month. Sure, there might only be 42 scenes online but with porn's hottest, most deviant newbies, 4K Ultra-HD videos, and a deal with Evil Angel that has him heading for the big time, Bryan Gozzling's Hookup Hotshot is an undeniably good deal!