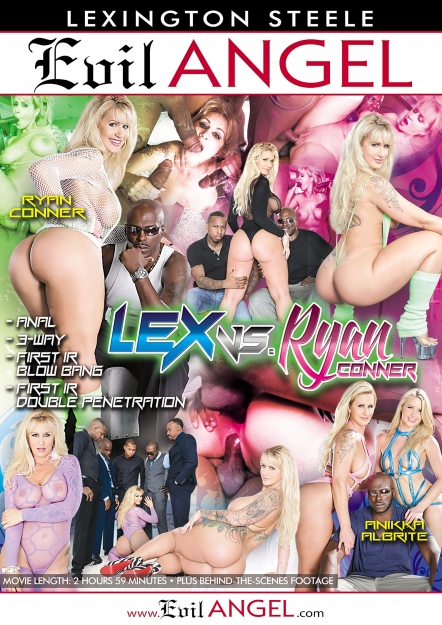 Having left the adult industry in 2005 after six solid years of pornographic excellence, Ryan Conner returned to a warm welcome in June of 2015 after a ten year absence. And, having taken time to get married, raise a daughter, and generally attempt a "normal" life, she says she's now "home."
Profiled in the February 2016 issue of AVN Magazine, Conner spoke of trying to determine the environment that worked best for her. "Out in the real world you don't mesh very well when you live life the way we do. You don't fit in with vanilla people." After her daughter, Dylan Phoenix started having some adult industry success, she'd shoot messages back to mom from her old colleagues. After a while, Conner says, she realized she missed "those people" and considered returning. And, man, are MILF-fanatics glad she did!
Although Conner told AVN today's porn shoots were longer and more draining than those of yesteryear – it's all the extra striptease, dancing, and interview intros, she says – she has also relished the chance to work with Manuel Ferrara, calling their scene in Raw #23 "a blast" and the most fun since her return. Another pair of scenes with Ferrara (in Oil Overload #13 and Manuel is a MILFomaniac #3, both for Jules Jordan) suggest she's not just flattering the Frenchman. If sheer volume is anything to go by, though, it's Lexington Steele that has Ryan Conner rejoicing her continued relevance, as Lex handed her a feature all her own: Lex vs Ryan Conner. Featuring her first interracial blowbang and double-penetration scenes, the Evil Angel title absolutely confirmed Ms. Conner still had what it takes to handle porn's most demanding jobs. A Dogfart anal tag-team and a trio of Brazzers scenes sealed the deal.
Welcome back, Ryan Conner. Don't go rushing off to vainly attempt "normalcy" again anytime soon, ok?