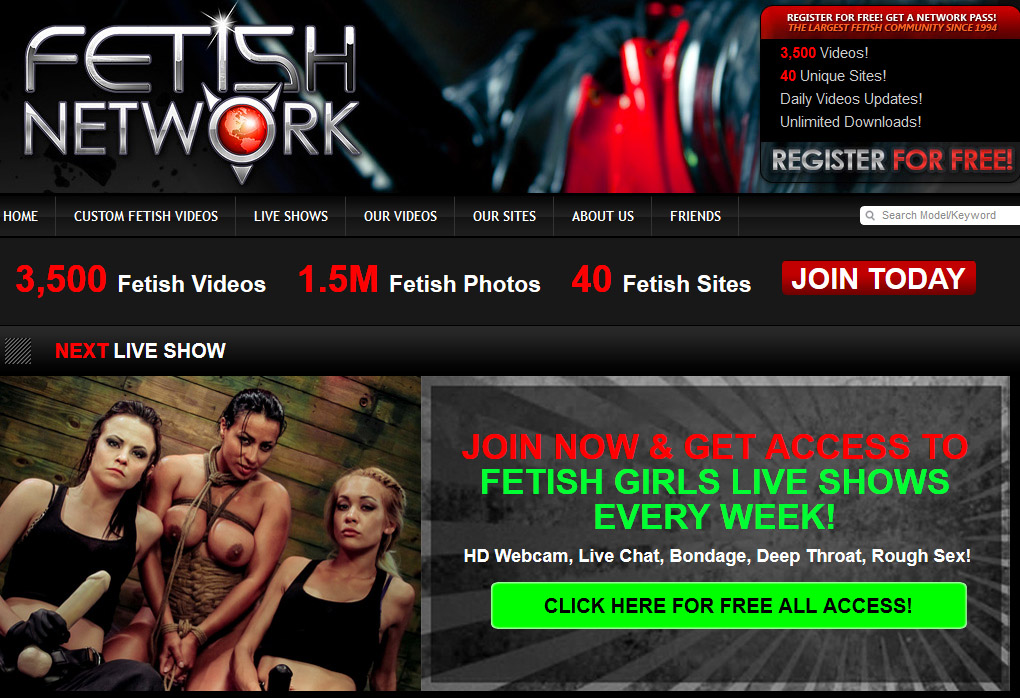 The high cost of producing hardcore fetish porn usually means that those producers must then charge viewers a little bit more to ensure they can stay in production. Whips, chains, leather clothing, rented dungeons, fluid shields for the camera, trauma counseling for the less experienced performers, and, of course, the hiring of talent brave and bold enough to be dropped naked into a dunk tank or strapped to a hobby horse and relentlessly pounded until there's nothing left but a whimpering, drooling tangle of limbs and hair, these are all major expenses that most porn productions never encounter. Thankfully, there's a hardcore fetish network that has decided enough is enough, high prices don't get people into paying for porn, discounts do! Fetish Network, home to 44 exclusive websites dealing in various hardcore sexual antics, has slashed its entry fee from almost forty bucks and now asks you to pay just $19.95 for a month-long membership.
Fetish Network's websites – Brutal Castings, Sexual Disgrace, My Kinky Diary, Strap-On Squad, Helpless Teens, Pain Freaks, Tokyo Slaves, Brainwashed Teens, Amateur Trampling, Glam Bitches, and Brutal Ball Busting among them – cover every conceivable BDSM sub-genre from abusive insult-laden handjobs to foot-focused female domination, from smoking fetishization to jerk-off instruction, and then some. (Teenage hitchhiker porn, anyone?) And, to top it all of, Fetish Network is free to browse. You won't be able to view full videos or galleries, but you'll sure as shit know whether or not this is a network for you before plonking down $19.95 and entertaining your most sordid fantasies.
THE MATH:
With the current $19.95-discount in place, Fetish Network, currently home to 44 exclusive websites, could be seen as charging just 45¢ for access to each of its sites. And, with 3,766 scenes filling the immense network archives (again, completely exclusive), your membership purchase boils down to just .5¢ (point-five-of-one-cent) per scene, a truly staggering rate if ever we've featured one. Obviously there'll be plenty of readers not at all interested in watching Marsha May hypnotized into sucking dick, nor Montana Sky rope-tied and fucked senseless, but those with a penchant for pain or a boner of bondage will most certainly be very pleased this Fetish Network deal has come along.