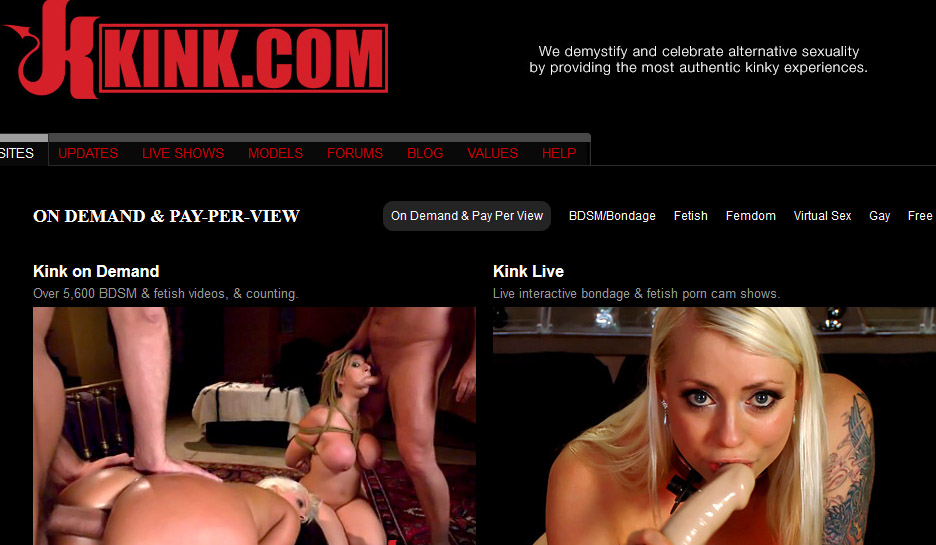 Notorious San Francisco-based fetish porn studio, Kink.com, has been garnering much attention over the last few years, attention both wanted and unwanted, from fans and critics alike. Whether it's HIV transmission allegedly occurring on set, a performer bemoaning what turned out to be a pretty tough scene, or accusations of on-set assault and misconduct, the conversations about Kink have been heated for some time now, so much so that many have suggested the company leave its home in the San Francisco Armory and shut-up shop for good. Kink founder and CEO, Peter Acworth agrees that something needs to change, but he and his crew aren't going anywhere anytime soon; they're just "rebranding" their BDSM empire as that most loathsome of commercial entities the "lifestyle" brand.
Alongside its main endeavor, shooting the most bristling and brazen hardcore BDSM porn on the planet, Kink has extended its reach into other areas with its already popular Armory studio tours, fetish workshops and classes, and The Armory Club, a bar and cocktail lounge launched in late 2012. Acworth says Kink has seen "tremendous growth" in such extracurricular arms of his enterprise, growth that he hopes will continue as Kink drops two and rebrands another pair of its more outrageous websites in favor of refocusing attention on online social interactivity, retail sales, community events, and a more conventionally palatable take on hardcore BDSM.
So, as we bid our goodbyes to Public Disgrace and Bound in Public and best wishes for the redevelopment of Hardcore Gangbangs and Fantasy Gangbangs (and keep our hopes up for a continued reign of utter debauchery), why not enjoy a few of Kink's most recent and very much intense works, perhaps Lyla Storm's Snow White gangbang or maybe some Dungeon Sex or some electrified labia majora. After all, you never know when Kink will ditch such havens of sexual degeneracy in favor of keychains, branded martini glasses, and a roaring profit margin.