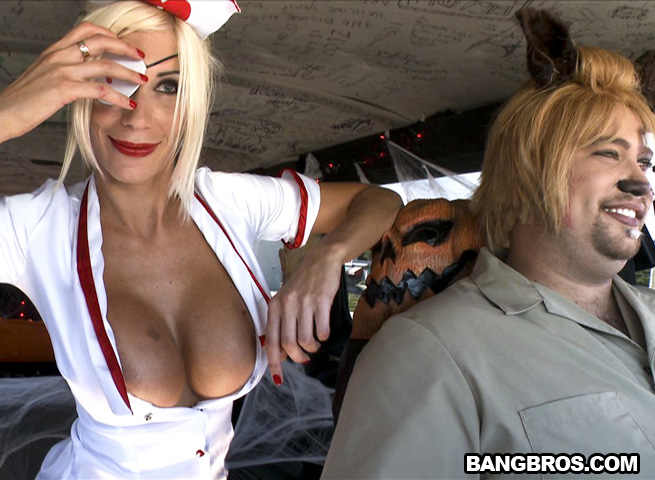 Every October people all around the world eagerly await Halloween, the one day every year when it's not only acceptable to dress as a demonic sadist, ghetto street hooker, or zombified Captain America, it's downright expected. The porn industry has always enjoyed some gussied-up Halloween antics and with the rise in popularity of parody porn, adult studios and websites seem even more eared towards presenting a decadent costume play that is strictly for the grown-ups. In this two-part blog, Mr. Pink is going to highlight some of the stunningly spooky pornographic achievements that have come to our attention in the lead up to All Hallow's Eve.
Those randy rascals the Bang Bros have already added not one, but two Halloween-themed scenes to their highly-rated network, employing Nordic superstar Puma Swede and a quintet of lesbionic hussies for some all-out costumed degeneracy. Featured on Bang Bus, Puma Swede dons a kinky nurses uniform reminiscent of Kill Bill's Elle Driver and roams around Miami in a pumpkin and spiderweb filled van, pulling random guys off the street and asking them to dump their candy directly into her mouth. It's all there in "Trick or Treat BITCHES!"
Over at the Bros' relatively new all-girl site, Party of 3, the sapphic quintet – Alexis Fawx, Mercedes Lynn, Anastasia Morna, Blarie Banks, and the bootylicious Rachel Starr – get together and simply try on some costumes. Although they giddily prance around naked, it's not until Rachel starts grab-assing whoever is wearing the spandex cop uniform that things get crazy. Forty-odd minutes of finger-banging, clit-licking, dildo-riding, strapon fucking lesbian action later, everyone agree that "Halloween Pussy Party" is one shindig they won't soon forget.
Never ones to be outdone, Brazzers have pulled out all stops in their high-concept Halloween production, The Sexorcist, starring Sophie Dee, Zoe Voss, and Jordan Ash. Featured on Pornstars Like it Big, The Sexorcist sees supreme British whore Sophie playing a women driven to furious displays of unrestrained sexual aggressiveness by the demon that has possessed her. Concerned roommate Zoe gets caught in the demon's grasp and suffers multiple squirts to the face, forcing her to call in The Sexorcist himself, Father Ash, in the hopes that this holy man can rid Sophie of her otherworldly affliction before she nails him, too. Somehow I kinda doubt he's successful.
Staying well within the Earthly realm as it their M.O., Reality Kings throw their own Halloween bash on Money Talks. Resident cocksman Voodo takes to the streets in "Sleeping Booty" to pick up everyday hussies for a debasin' good time in the RK van. One such girl, Megan Brown, is paid to lay down and allow her snatch to become a 3D canvas as Voodoo creates a snarling werewolf out of her upper thighs, complete with fake fangs between her lower lips. Hey, just because it's "Reality," doesn't mean it has to make sense!
Tune in tomorrow, guys and ghouls, for the further adventures of "Monster" Pink for more sapphic Samhain celebrations and tittyfucking trick-or-treating.