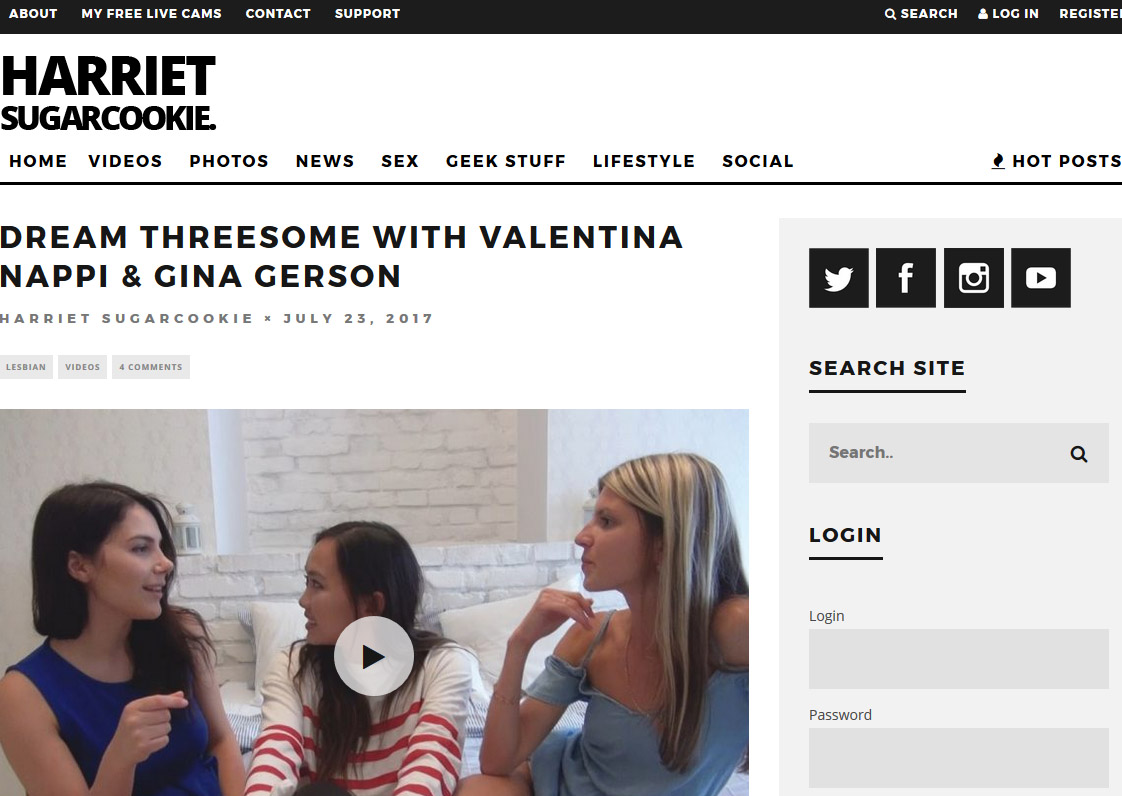 Harriet Sugarcookie and her fledgling adult lifestyle empire have branched out into online pageants, naming Italian sexual goddess Valentina Nappi its inaugural Miss Sugarcookie for the month of August 2017. Obviously a longtime favourite of the diminutive Chinese-British media sensation and her crew, Ms. Nappi has also worked her way into thousands upon thousands of porn viewer's minds, noted for not only her sexual prowess and enthusiasm but for her commitment to sexual equality and diversity. A far cry from the politically inactive and intellectually unknown pornstars of the past, Nappi seems to come closer than any other to fulfilling a porn performer's potential in this day and age and industry era.
Calling Nappi her "porn idol" in blog posts and arranging a few scenes with the sultry, curvy brunette – including one hell of a threesome with herself, Nappi, and Gina Gerson – Ms. Sugarcookie awarded her first monthly crown to Nappi in the tradition of Playboy's Playmates and Penthouse's Pets. Only this time it's all presented with Sugarcookie's usual casual sheen. In an introductory video seen below, Nappi rises from her slumber and engages the morning with a delicate yet fun sensuality, delivering tea, toast, and a fruit platter to her still-dozing lover, Harriet herself. Safe enough for work and featured on YouTube, the video is still quite revealing of Nappi's unmissable curves and comely glances.
Admittedly, Valentina Nappi won't be easy to supplant next month when Sugarcookie announces her next Miss Sugarcookie, but with a strong history of seeking out, shooting, and fucking some of the most sensuous and desirable performers from around the world, I'm sure Harriet will think of someone.