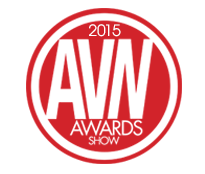 So you think you've got what it takes to shoot the shit with porn's most dazzling personalities while maintaining an entertaining and professional manner? And you think you'll be able to withstand the glitz and glamor of the 2015 AVN Awards, focusing on the task at hand even if that task is interviewing performers, directors, producers, and presenters? Well, my friend, you'll now have your shot – or, you'll have your shot at getting your shot, at least – thanks to the good folks at Adult DVD Empire.
Offering one porn fan the chance to be their official AVN correspondent this coming January at the Hard Rock Hotel and Casino in Las Vegas, Adult DVD Empire is asking wannabe porn reporters to shoot a brief YouTube video that proves to judges why you're a worthy recipient of such a distinguished honor. Oh, and Bonnie Rotten tells you the basics of the competition in a cheap, fast, and flashy video (seen below). The winner, and there can be only one, will receive airfare from anywhere in the continental United States to Las Vegas and hotel accommodation for three nights so you can take in every moment of the Adult Entertainment Expo and the AVN Awards, both which you'll naturally also win passes to. You'll probably get a lanyard, too. (People still think lanyards are awesome, right?)
If you're so inclined, dear reader, I'd suggest boning up on your comedic timing and witty repartee, and perhaps throwing some slickness into your video presentation, 'cause there's bound to be plenty of self-described awesomely funny folks who'll do almost anything to meet and greet pornstar babes galore, giving you some stiff competition. How are you going to stand out? What will you do to be granted use of a camera, microphone, and laminated access pass that no other porno superfan would even consider, let alone commit to? Now, all you up-and-coming Dave Attells and Lisa Lampinellis of the world, get shootin'!