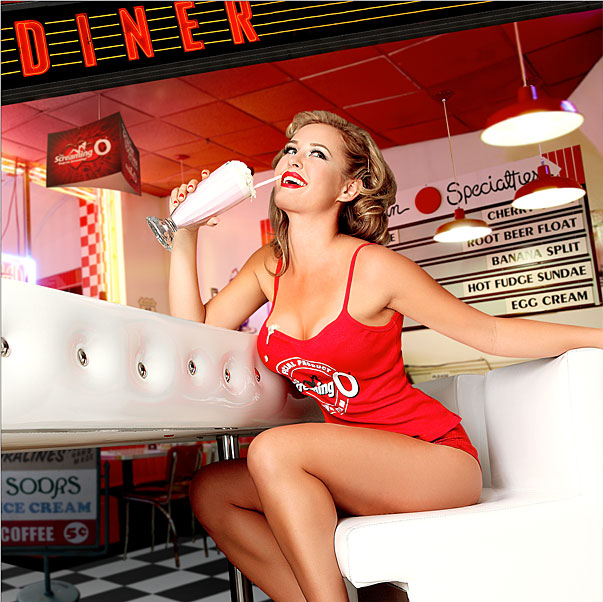 The year 2012 may have only just begun, but already a couple of adult companies are reaching back into the past to create memorable products. Harkening back to that classic era of kitsch Americana, the 1950s, The Screaming O's 2012 calendar presents a dozen gorgeous babes posing in skimpy outfits as they bring your favorite fantasies to life. Whether sucking down a malt at the soda shop, skating over to the window of a '55 Chevy Bel Air, or chewin' on a piece of straw in cowboy boots, shorts, and a ten-gallon hat, these purebred American fillies point to moments in our nation's history that are fondly remembered as showcasing the epitome of alluring femininity in a suggestive yet somewhat innocent fashion. "It may have been something as simple as a flirty glance, a romantic spark, or an instant attraction that left a lasting impression in our minds. These girls embrace the power of their sexuality with confidence and style," tells The Screaming O's Keith Caggiano, pinpointing the company's M.O. "We always say, inside every girl next door is a Creaming girl at heart!"
Intimate apparel designers and manufacturers Seven 'til Midnight are also harkening back to an earlier time in America's history, this time aiming squarely at the swinging '60s with their brand new 2012 line of intimates. Set to debut in late January at Le Salon International de la Lingerie in Paris, the collection aims to bring fans of the recent classy Mad Men-inspired sixties styles into a more erotic arena, one filled with glamour, suggestiveness, and sophistication, by the time of its Valentine's Day retail release.
As odd as it is that two leading intimate companies are jumping back in time fifty years or more at the beginning of a new year, both of these new offerings are bound to be big hits with consumers and professionals alike. Imagine someone like Natasha Nice or Alexis Texas in a slim-fitting '60s-style black cocktail dress with garter and stockings underneath and tell me you're not more worked up than Don Draper at an Equal Pay Act after party!