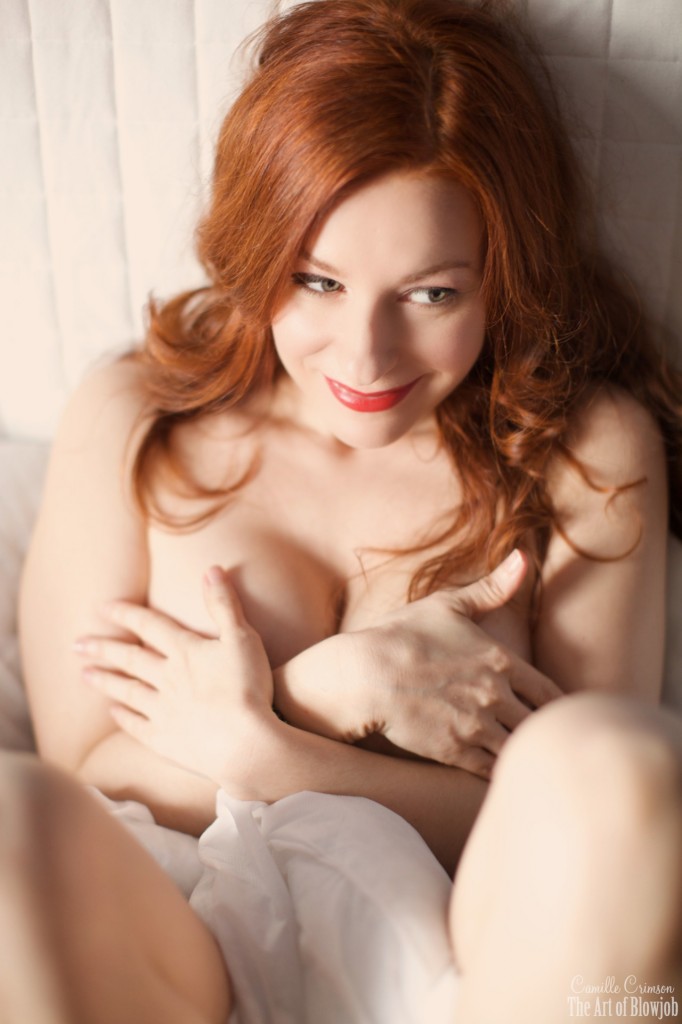 Whether you're a devoted student of The Art of Blowjob or not, anyone into fellatio porn – so everyone, right? –  knows who Camille Crimson is and knows that she gives mind-blowing oral pleasure to her beau, Mike, on the aforementioned website. What you might not know about this flame-haired beauty is that last week she took the reigns at Fleshbot. While you may have missed some horny happenings, the seemingly permanent nature of everything the Internet produces means everything the flaming redhead brought to Fleshbot during Camille Crimson Week is now archived for your tardy viewing.
Fleshbot (a hugely popular adult blog for those not in the know) granted Ms. Crimson editorial privileges and tasked her with writing a slate of columns geared towards giving Fleshbot readers exclusive insights into her incredibly fertile sexual mind. Camille herself phrased it quite concisely in her open address: "I hope you'll all stick with me this week so I can share my take on porn and share a bit of what I find engaging, inspiring and, most of all, incredibly hot." Camille went on to share some of her favorite porn such as an Hitachi-aided hardcore scene and squirting compilation from Pornographic Love, erotic fiction from Guy New York and Daisy Danger, photographer/writer/model/K-Pop enthusiast Katie West, and, of course, some of her own work.
Not limiting herself to merely peddling her favorite porn, Camille also shared her views on some far tougher subjects. In 'The Feminism of Giving Blowjobs' she says "By continuing to create and [sic] open dialogue about the many different ways of experiencing pleasure, I am trying to validate any consensual way that anyone finds joy, which is especially important in women's sexuality." Writing about her attitude to mainstream porn she criticizes it for its apparent lack of aesthetic beauty, saying "the performers look fine, but it's never done with beauty in mind." The undeniably skilled queen of the sensual blowjob also gave some lessons on giving and receiving penile oral pleasure, instructing guys to keep themselves clean and healthy for their ladies who, in turn, have to awaken their passion and creativity, and open lines of communication with their partner.
Before she shuffled back off to her day job – a steady supply of content for the fantastic (and Mr. Pink approved) The Art of Blowjob – Camille had just enough time to answer some questions from readers and fans, and to give away free memberships to both of her sites (Dolorem being the second) as well as to Pornographic Love, one of her favorites. So, odds are that you didn't win one of Camille's prizes and probably didn't even have your question answered – yo, that's me! – but you can always go back and relive the incredible wealth of pleasure pointers and teasing tidbits Camille impressed upon her Fleshbot audience thanks to the miracle of modern technology. Kinda makes the fact that nobody raises their eyes above iPhone-level in public anymore, well, not so likely to turn you into a luddite Hulk with a rage-on… if you know what I mean.