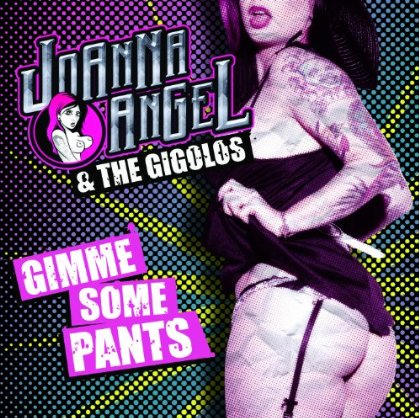 If there's two things Joanna Angel really seems to understand it's sex and rock 'n' roll. As a longtime fan of hardcore punk, metal, and basically any music with balls, Angel has featured the music of up-and-coming bands in her Burning Angel movies for years. And now she embarks on a musical adventure all her own, performing on a song recorded for the soundtrack to upcoming Burning Angel flick Band Sluts.
Curiously titled 'Gimme Some Pants', the song is the first work by Joanna Angel & The Gigolos and combines synth lines and an eminently danceable beat with crunchy guitars and nutty lyrics about, uhm, pants. The Gigolos accompanying Angel on her newest musical endeavor aren't just hired hands or local friends, they're Small Hands and CL Lewis of Houston-based pop-punk band Fenix TX. (Small Hands is also Angel's boyfriend and sometime porno co-star.)
Don't go expecting Joanna Angel & The Gigolos' material to be as risque as Burning Angel's movies, though. "Even though some might perceive a sexy element to the band," Joanna explains, clearly referencing the single's booty-baring sleeve artwork, "I didn't want the songs to be specifically about sex. You can see and hear enough of that stuff on Burning Angel. These are just fun songs that we have a good time writing and recording; having fun is the main goal!"
And, as anyone who's seen such Burning Angel classics as Cum On My Tattoo, Evil Head, and Joanna Angel's Cumtastic Cookout know all too well, Joanna Angel is all about fun. Ribald, raw, raunchy fucking fun.
'Gimme Some Pants' is out now on iTunes and Amazon through Gypsy Diamond.