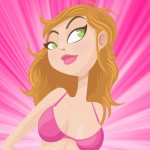 Missy Pink,
This is going to sound like one of the oddest questions you've ever gotten, but here goes nothing. My wife and I, after 20 years of marriage have gotten pretty stale. We both work outside of the home, but, for some reason we go our own ways, no conversation, barely any sex, just a routine that we both have gotten tired of. She was reading an article to me the other day from one of her woman magazines about cuckolding. I'd never heard of it, but she is quite interested. I'm not sure if she's just looking for a way to have sex with someone else, or, if she's warming up to a fetish lifestyle. I admit, I'm a bit submissive for the most part, and it does intrigue me. Is this kinky way of living healthy for a relationship?
– Waiting To Watch
Dear Friend,
First of all, let me say this, no one can say if cuckolding or any other form of sexual pleasure is considered healthy for a relationship, no one can answer that but the people directly involved. I will say, talk it through thoroughly with your wife, play out every possible scenario you can think of, the actions and reactions, and even when you think you've come to grips with what it will be like, think a little harder, because it will be more powerful than what you have forming in your mind when it comes to the reality.
You said you're a bit submissive, which, I can see where that would play into things, but, actually not as much as you think. When a person thinks of being submissive, images of being tied to the bed, blindfolded, being led around by a choker collar to service the dominating person that has you performing oral sex upon them, and orgasm denial for yourself come to mind. There's more to being a cuckold than just sitting, being humiliated and controlled by another person. This is your spouse, someone you've grown very accustom to in the last 20 years, giving her body to another person while you watch, that takes more than just a submissive mind frame.
Granted, this lifestyle, along with swinging and other fetish criteria does appeal and work very well for many couples. They find it enhances their relationship in ways that make them much stronger and durable, but, something tells me, a small percentage of them just happened to come across a magazine article and were ready to jump into it while discussing the weather over a morning cup of coffee. If you've never thought of your wife being one that could enjoy hardcore excitement with another person in front of you, then, something may have changed somewhere, and you need to explore deeper than just the notion of a wild sexual act.
I'm not saying for you to partake, and I'm not saying for you to avoid, I'm merely advising you to be certain this is something you both feel equally comfortable with, because this is one of those instances, once it's done, there's no undoing what's happened. So, proceed carefully and slowly, and should you both come to a mutual agreement that cuckolding is in your near future, then I'd say, get comfortable and enjoy the show!