A few years ago, a friend of a friend was over at my place and noticed a stack of about ten DVD-R spindles sitting on top of a bookshelf. When I told him they contained digital copies of old and obscure Japanese, Korean, and Polish cinema titles, he couldn't believe his ears. It wasn't my questionable copyright infringement that disturbed him, it was the idea that I still kept content stored on physical discs. "Media should be streamed," he told me, "DVDs just take up landfill space, degrade in quality over time, and are prone to damage." I defended my burning habit: "But you can't loan a stream to a friend or throw it into the trash if it's a shitty movie." Still, he maintained that streaming was the way to go, a position clearly held by the subject of this week's Beating on a Budget, the streaming only Exxxtasy.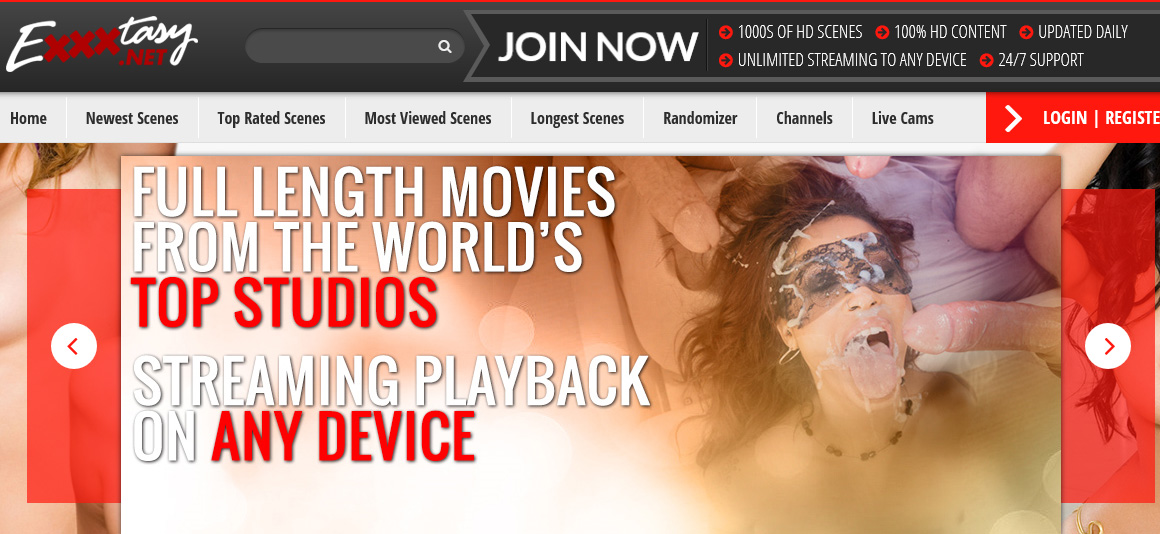 Now, don't get me wrong. If you're a particular kind of online porn viewer, the kind that keeps an archive of, say, Belladonna's roughest gangbangs or the complete online works of Alina Li you won't have much use for Exxxtasy, where downloading is prohibited. Those of you down with HD streams, on the other hand, might not have seen a site this appealing for a long, long time. Exxxtasy has only just begun its assault on your bandwidth, but it's already a large site hosting tons of high-quality mainstream porn releases that, though not exclusive, are great to see pulled together in one place. Even though Exxxtasy was already dirt cheap to access, the site is celebrating its growth with a discount that should have all you porn-streamers clamoring to think of a totes sweet username. Originally $9.99-a-month, Exxxtasy, home to titles by Elegant Angel, Harmony Films, Pure Play Media, and Killergram, among others, can now be enjoyed for a ridiculously low $4.99 (valid for your first month's access).
Although it's by no means a perfect site, Exxxtasy overcomes its detriments (poor navigation tools, no downloading, no photos, no Roku channel… yet) and, quite simply, makes you an offer you can't refuse: who can pass up 1,500 killer porno scenes starring A-listers galore for a measly $4.99? Hell, I was even granted complimentary access for review purposes and I still bought one month inside Exxxtasy. And here's why…
THE MATH:
Exxxtasy currently holds a pretty dang substantial 1,547 scenes in its archives and charges $4.99 for one month's access. This price point means that each individual scene hits a cost of only .3¢ – that's one-third of a single cent! What more savings does a dirt-poor porn fan need?
Bargains like Exxxtasy don't come along too often and especially not those granting you access to a hefty award-winning porn archive starring every pornstar worth a damn over the last decade, so (personal opinion alert) I'd pounce on this one if I were you.