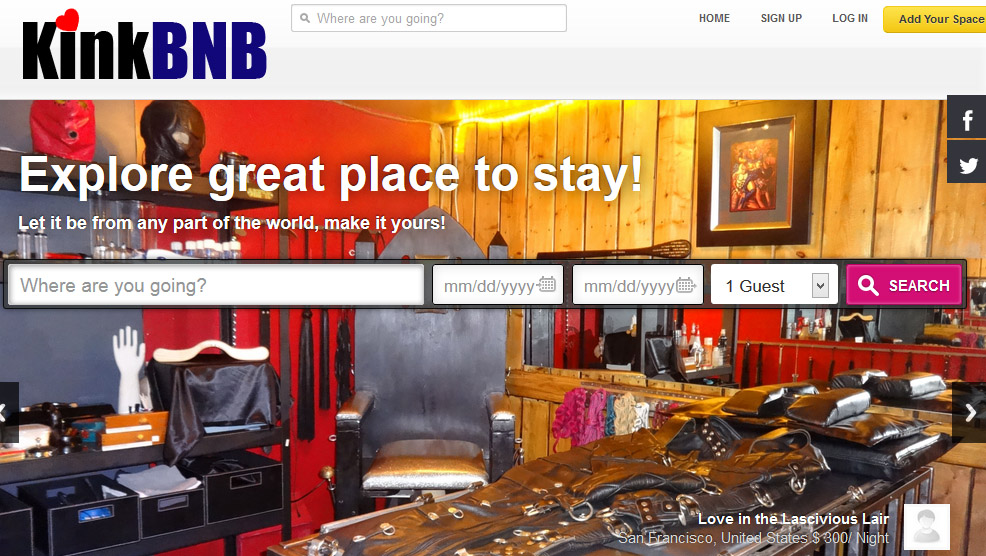 Finding accommodations when traveling can be a drag, especially when you're restricted to the usual barrage of run-down hotel and motel chains. From stained bed clothes and unhelpful staff to bed bug infestations and volatile air conditioning units, many such establishments leave you little choice but to stay at home and pine for adventure. If you're planning on indulging in a little (or a lot of) sexual activity during your trip, it's even worse. Imagine inviting the perfect third component of a long-desired out-of-town threesome back to your room only to find the guests next door have fouled up the place with soggy-pizza-stench and a booming radio broadcast! The answer was thought to have arrived with popular home-sharing site AirBnB, but with that site removing listings containing photos of one would-be host's bondage dungeon. To handle this issue, and to offer sex tourists more accommodating accommodations, KinkBnB will be launched on May 1st.
Although it currently lists just five properties, KinkBnB caters to adventurous travelers with flamboyant tastes. From an Inland Empire dungeon filled with antique couches, a wardrobe room to an artist's loft termed a "suspension lover's delight," KinkBnB's currently listed properties aim to provide a safe, comfortable, and well-equipped playhouse for the carnally-minded. Ranging in price from $205 to $650, the apartments, cabins, and houses are also priced to suit most budgets.
This slideshow requires JavaScript.
It'll be very interesting to see how KinkBnB progresses and if authorities attempt to clamp down on its operations as they have AirBnB's in San Francisco. Something – the lack of listings? the risque service that can't be replaced by a more standard commercial endeavor? – tells me that's pretty unlikely, though.