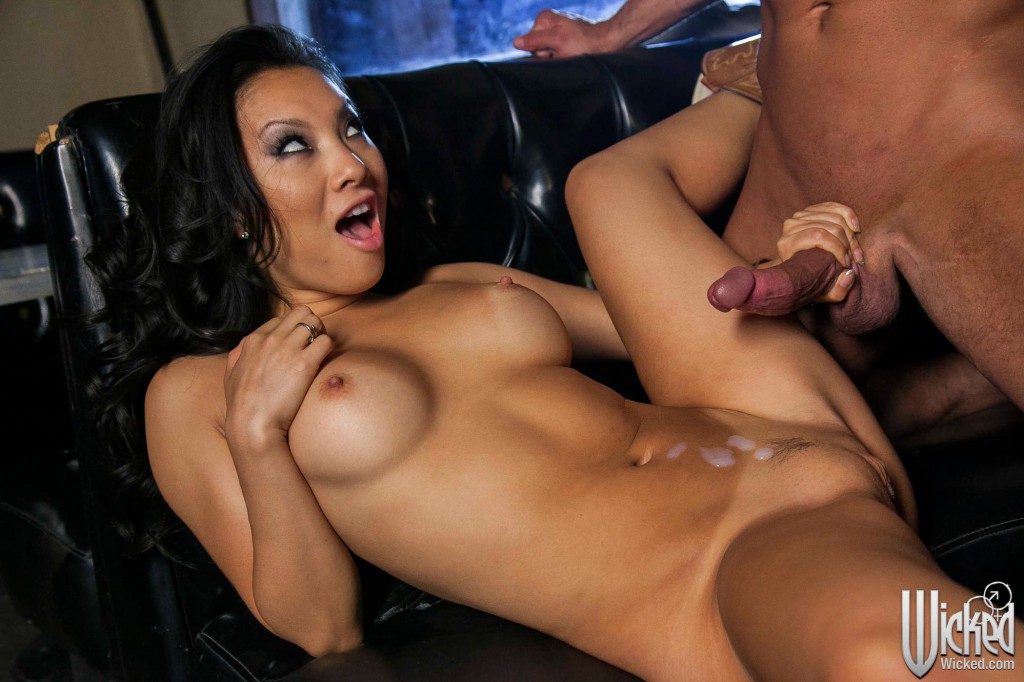 Already the recipient of 2013's AVN Award for Female Performer of the Year and a recent addition to Elegant Angel's stable of directorial talent, Asa Akira seems to be doing pretty well for herself this year. Now, hot on the heels of the announcement of her exclusive performance contract with Wicked Pictures, a company she has long admired and respected, Asa Akira releases her first self-titled Wicked picture called (not at all surprisingly) Asa Is Wicked.
Directed by veteran Brad Armstrong, the all-sex Asa Is Wicked release incorporates its star's ideas and concepts. In a way, it had to. Originally planning for exclusive Asa's debut to be a double-header co-starring Jessica Drake, Wicked overcame scheduling conflicts and resolved to cement Asa's position amongst its already impressive roster of contract girls by granting her the freedom to perform as wildly here as she has elsewhere. Asa Is Wicked, then, sees the diminutive gangbang-lover oil-up Johnny Castle for a more feverish massage scene than most would be capable of, a double-penetration scene with Eric Masterson and Tommy Gunn, and, surprisingly enough, condoms in use in all scenes.
Of the condom use, director Armstrong says those in the industry remaining staunchly against their use should be reconsidering their attitudes. "For the guys, there's a performance issue there, but for the girls, I can't quite figure out why they would be opposed to it, but some are." Clearly not Asa, though, who knowingly signed with a condom-mandating company and who says of her future, "I eventually want to have a family. I've been around a while. I think about these things now. I mean, I'm 28; in porn years, that's like 80."
Wicked Pictures and its new and future endeavors thankfully ensure we'll be eyeing the talented Ms. Akira for as long as she's having incredibly adventurous and enthusiastic sex on camera. And, really, that's the best we can hope for, isn't it?