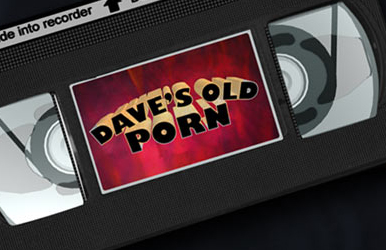 No comedian has made more blatant his love of sexual deviancy than Dave Attell. The two-time AVN Awards host hasn't just hobnobbed with porn's best and brightest, he's already figured out a way to watch porn professionally. With one well received season already in the can and a second premiering this past week, Showtime's couch-bound comedy show Dave's Old Porn sees the standup inviting guests to sit with him and watch vintage pornographic movies from the days of Super8, VHS, and Betamax. While not the most interesting concept on paper, in practice the show's a riot that blends Mystery Science Theater 3000 commentary with interviews that, thanks to guests like Kathy Griffin, Joe Rogan, Chelsea Handler, Marc Maron, and porn stars both active and retired, Ginger Lynn, Joanna Angel, Nina Hartley, Tom Byron, and Ron Jeremy, are as riotous as they are revealing.
Talking to Men's Health on the eve of the show's second season premiere, Attell revealed that the idea for Dave's Old Porn came after "four years of drinking and walking around in the rain" on his Comedy Central show Insomniac, when he decided his next TV gig should omit heavy weather and include, preferably, "a lot of porn." While cum-showers are definitely on the cards, most of the golden age goodies Attell and his guests watch and riff on are precipitate-free, leaving commentators to focus, not surprisingly, on the differences between vintage porn and the contemporary adult entertainment scene.
Calling today's porn "super hardcore… it looks more like an MMA fight", Attell asserts that, although we may make fun of them now, the more character-driven porno narratives of yore had viewers finding themselves actually caring about the people doing the fucking. "You really fall in love with the girls, and the guys were like chameleons. Ron Jeremy was a flight attendant, a plumber, a secret agent… the range of that guy! Robert DeNiro cannot do what Ron Jeremy does." And, more importantly, few people want to see him try.
Dave's Old Porn continues its second season Thursday at 11pm ET on Showtime.