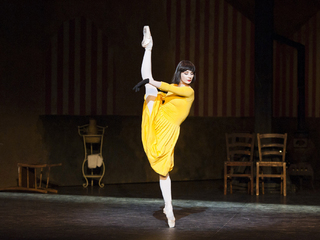 What makes ballet so boring? According to Tamara Rojo, the newly appointed artistic director of the English National Ballet, it's men. Men often approach dance in much the same way they approach pornography, Rojo told Time Out magazine, suggesting that she and her female fellows would bring a more sexually egalitarian sensibility to a world of dance currently overrun with male perspectives and attitudes. "Female sensitivity is different," Rojo said. "And there are issues that I want to see on stage approached by women. Very often we see relationships approached from a male perspective. Like in porn, it shapes the way you look at things."
Asked to elaborate on her ballet-porn analogy, Rojo told Time Out "It tends to be a more physical approach. Men start with the steps. I find women start with the emotional landscape. They say, 'This is the situation; let's find a language for it.' With men it tends to be, 'This is the language,' and then you try to work out the situation through the steps." Before you cry "artsy-fartsy" at her, though, give Rojo's observations some credence. How many times have you seen porn briefly revolutionized by a woman? Directors like Belladonna and Dana Vespoli and Bobbi Starr, adventurous and daring performers in their own right, broadened the palette of mainstream hardcore porn almost immediately upon taking up the camera. Belladonna brought more powerful performers to the fore in an often all-female pantheon of decadence involving foot fetishism, tender lovemaking, brutal fisting sessions, and, oddly enough, frank conversation. Starr and Vespoli have followed Belladonna's lead and are now producing movies far more expressive and original than most of their orifice-obsessed male counterparts. Although, I'm afraid, nobody seems to have alerted Rojo or her dancers.
The recent surge in feminist attitudes in hardcore pornography also seems to have been missed by Guardian columnist Judith Mackrell, who notes some major exceptions to Rojo's description of methodical males and emotional women choreographers, exceptions like Twyla Tharp and Russell Maliphant. Mackrell continues, "The more important truth for Rojo is that with about 90% of today's ballet repertory [and pornography -ed.] being made by men, as well as a disproportionate percentage of modern dance repertory, we have only a limited idea of the kind of work that women might make."
So (continuing the ballet-porn analogy) now that Rojo has essentially landed control over the nation's foremost adult film studios and while that might be a considerable step above Belladonna's station as an Evil Angel director, it's certainly not far off in terms of potential for an artistic, sexual, and industry revolution.