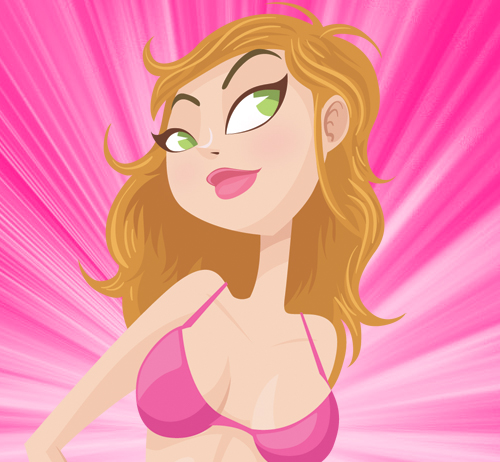 Dear Missy Pink;
How do you know if you're having an affair? I've not gone to bed with anyone other than my husband in the 20 years we've been married, but, where are the lines drawn when it comes to infidelity?
Nearly a year ago, I had the day off from work and a text came across my cell phone. Someone had keyed in the wrong number, and, I politely returned a message letting them know the intended person wasn't who received the message. We joked back and forth about the mistake and found ourselves nearly 2 hours later still corresponding through our cell phones. The more he wrote, the happier I felt inside and the more I could barely wait for the next tweeting sound of an incoming message.
We found a real enjoyment in one another's texting company, so much so, we would schedule our lunch break at the same time, even slipping to the restroom at the same time each day, just to send a note to one another, feeding the fire that was building within us. I've gone so far as to make an excuse to run to the store late at night, just to send him a good-night wish.
We are both married, happily so for the most part, but apparently lacking in areas that we seem to fill for one another. We've been texting a lot lately about actually meeting in person. I know him so well from our intimate messages, and vice versa, the next logical step would be to get together for lunch or a cup of coffee, but the temptation is already so great, I'm afraid where it might lead. I feel guilty for not feeling guilty, and the urge is getting stronger for us both.
Cell Phone Sin
Dear Ms. Sin;
Well, I must admit, it seems you've dug yourself a horny hole that now you must decide whether to climb out of, or have someone toss you a larger shovel so you can continue digging. If you and your husband have already been married for 20 years, then I assume it's safe to say I'm not talking to some teenager that's following her puberty whims, you're an adult, and know what feels right and wrong to you.
My own personal opinion, when it comes to having extra marital affairs, whether they be the tender romantic type or the full blown hardcore, meet in the middle of the afternoon at a cheap motel, bang each other's brains out and then rush home to get dinner in the oven, there's a philosophy I've followed. No matter how happily a married person is, they normally don't stray from their wedding vows because they're looking for new sex, what they're seeking is the romance, intimacy, and that fluttering butterfly feeling in the pit of their stomach. All of the things forgotten about as middle age and routine seem to be surrounding in a suffocating manner.
You've fallen into that groove of get to know a new person, hear them laugh at my jokes, have them think of me all day long, say all of the romantic things that makes a heart go pitter-patter, and now and then, embark on the erotica that awakens those areas below the belly button that time has forgotten. You don't have to spread your legs to constitute an affair, you've already broached the bedroom without actually hitting the sheets, and even though you feel as if you've not experienced guilt over your actions, it's apparent that you have, hence, your reason for writing about sexual advice.
It's human nature to think the next logical step as you called it would be to meet for coffee, but, I have a feeling if that happens, there's going to be a lot of cream added to that coffee! The ground work is laid, the only thing left is the two of you. You need to do some deep soul searching, maybe take a break from your break-time texting, spend some quality moments with your husband, see if the spark is still there. If you've got stronger embers from your texting romance, then you might want to seek more than cell phone service from your soul searching. Is it time to walk into something new, or should you invest that time into working on what you've had for 20 years and make it last another 30?
To answer your question to the best of my ability, in the eyes of many, yes, you are embarking into an affair, your heart has already been involved. For now, keep both feet on the floor until you have a foundation of what you truly want and what you believe you can deal with when it comes to looking in the mirror each morning. Maybe instead of an OMG! (Oh My God!) message, you should sent a TTYL. (Talk to you later), because, if you're bothered by this enough to seek advice, then you're not ready to take it one step further.  Life is short, and yes, you should grab the brass ring, but don't forget the golden one on your left hand.
Have a sex advice question? Want to be featured in our next blog post? Email Missy Pink's Sex Advice or post your thoughts in our Disqus feature below.