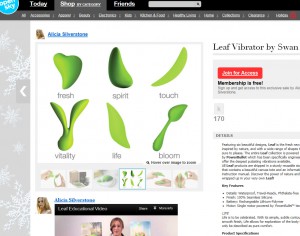 Alicia Silverstone might be turning to cookbooks to make a dime these days, years after her Clueless fame faded into a nostalgia trip for 30-year-olds, but her more recent career activities aren't entirely unsexy. On her website The Kind Life, the actress and health nut pimps products that are vegan, cruelty-free, and sourced from sustainable materials in an eco-friendly way. Now, on Open Sky, Silverstone is endorsing a product few would've predicted she'd attach her name to: vibrators.
Described as "personal luxury massagers designed for natural pleasure", the six new vibrators from Leaf are eco-friendly and have 100% silicone bodies with a silky smooth finish, as well as being completely "body safe". Ranging from the more basic, leaf-shaped Life and heart-shaped Fresh, the strongest and second smallest in the collection, to rabbit-eared Vitality, long and subtly curved Touch, ultra-discrete Spirit, and twin-motored flexible Bloom, Leaf offers a guilt-free self-pleasuring experience that someone of Silverstone's environmentally pure nature can't help but love.
With the holiday season approaching and our girlfriends, wives, and occasional sexual partners uniformly devoting themselves (with various degrees of genuine commitment) to an eco-friendly lifestyle, Leaf seems a surefire way to increase her sexual enjoyment without an iota of guilt… unless, that is, there's something she hasn't told you. With that in mind, how about picking up some "ethical" vegan condoms from Glyde?