So, I'm trying to fuck band manager Simony Diamond and have her sign my garage band to one hell of a deal, but she's reluctant. Why? 'Cause I'm a godawful guitar player who jumps ahead, pulling out his dick when nothing positive, not even your most basic pleasantry, has been exchanged. Simony already rejected me once, but thanks to Life Selector's resume/revise options, I can take a few steps back and adjust my tactics.
Instead of whipping it out as abruptly as Eddie Murphy does in Bowfinger when cornering those saucy Lakers Girls, this time I play it more cool, letting my fingers wander up Simony's thigh. Now, this is clearly more her speed! Parting her legs and quickening her breathing, she's reacting just as I'd hoped she would. I can't stop there, though, not with a woman this incredibly seductive at my virtual fingertips. Life Selector presents a choice: a twix attack (two fingers, two holes) or grabbing a finger-sized vibe to help my would-be Svengali cum. Since I'm trying to land myself a killer deal and a platinum record or ten, I opt for the later. She cums hard, gasping for air as her thighs quiver. So far, so good.
Now she wants to, in the words of Dirk Diggler, "feel my heat". I'm not even given an option here, it's fuck or nothing, so I fuck. Missionary and doggy are my position options, but I can also fuck her anally, grab that vibe and make her cum again, or skip straight to my own climax; where's the fun in that? Do I spend the eight additional token it'll cost to butt-fuck this Hungarian rock exec? How do I know she won't freak out and show me the door? I suppose I don't and won't unless I take the rear-passage plunge, so I dump my tokens and am instantly inside her ass, plugging away.
Strangely, this immediate leap to the next selected activity can make Life Selector feel less than truly interactive porn and more like a selection of clips that play at a moment's notice, 'cause that's exactly what it is. After pounding her ass for a while, I decide it's time to blow this joint (so to speak) and hit the 'Cumming' button. Suddenly she's not on her back but her knees and I'm not fucking her ass but her pussy. How did this happen? What smooth line did I attempt while turning her over? These are the little erotic treasures missing from Life Selector. Even if the life you desire is filled with impersonal romps with complete strangers who are just as likely to dismiss you as they are bend over and grab their ankles, don't you want to experience the little things? Isn't it just like Al Pacino's Ricky Roma tells a client in Glengarry Glen Ross? That of the great fucks you may have had, the thing you remember probably isn't your orgasm; it's something her hair did, something she said… the things Life Selector seems to be missing.
Whatever the case, fucking Simony Diamond in the ass got me and my bandmates to our first show. Check out these adoring fans!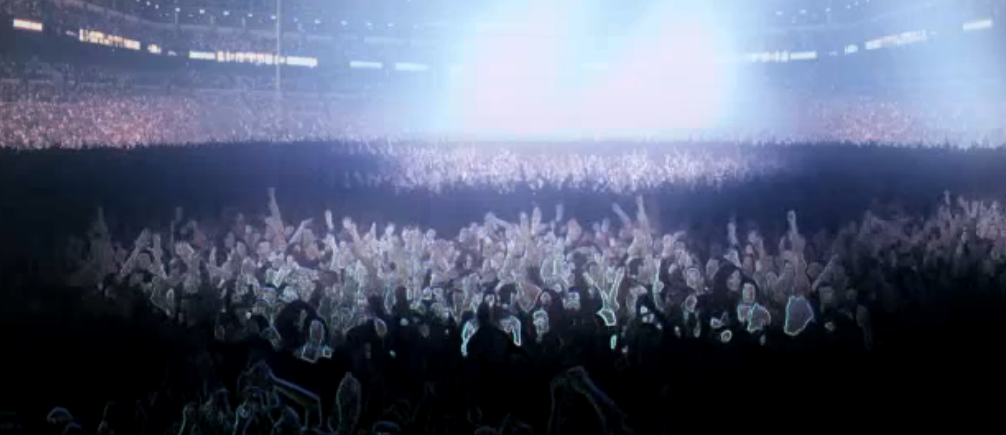 But with the burning need for mass adoration driving me back to the garage to practice and dream, what's next for the guitar-slinging, groupie-fucking, Madison Square Garden-filling Mr. Pink?