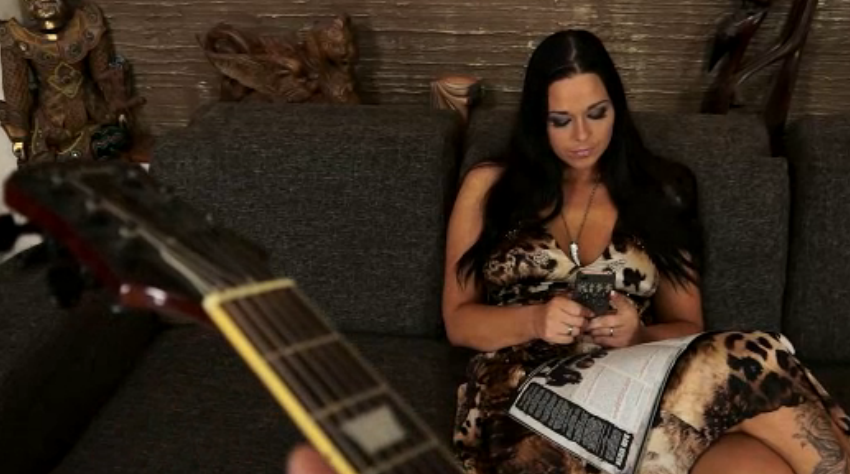 "Rock chicks like it rough, don't they?" With that and my desire to entertain thousands at the biggest stadiums in the country in mind, I chose to pull the hair of my very first groupie mid-blowjob. The young lady doing the blowing, the one I previously identified as Simony Diamond, is in fact someone else entirely. (Life Selector isn't as clear as it should be when identifying its models.) Whoever she is, her accent is trés sexy, her fashion sense is somewhere between Avril Lavigne and Jenna Haze in groupie mode, and she seemed to respond well to my virtual hair-pulling; so well that she's decided something else is in order. Now, do I want a handjob (nah), to explode on her face (maybe) or fill her mouth with my seed (perhaps). For visual flair, I'll choose a facial. And with that, dear reader, I blast my nameless first groupie from brow to chin, huffing and puffing as I make my deposit. She seems satisfied enough, but I've still got rock star dreams to fulfill. Which brings me to (the real) Simony Diamond.
Reclining on a sofa, tattoos on full display, iPhone (in KISS case) in her hand, texting, band manager Simony Diamond looks up to greet me.
"Hi, I've heard about you," she says in a thick Hungarian accent and pointing to a purple Gibson Les Paul, she asks to be shown some of my skills. From the way she continues texting and occasionally rolling her eyes, I can tell she's not an fan of poorly composed, inauthentic sounding midi-guitar. Another choice appears: Do I show her my "finger technique" or impress her with "my other great skill" (a.k.a.: my dick!)?
This being the virtual fulfillment of my destiny, I pull my dick out and expect her to leap on it. After all, it's a pretty hefty thing and she doesn't seem that enthralled in her heavy metal magazine. With my cock out and erect, I sit there on the sofa before the incredible Simony Diamond. She bolts upright! "Hey, go out, motherfucker!" she yells, pointing towards the door. "Shit! Go out!"
I blew it, folks, but thanks to Life Selector's resumable, amendable storylines, I can simply jump back to the beginning, follow the same path as before and simply pick an alternate option at the moment of crisis.
Join me next week as I endeavor to not only nail that contract but Ms. Diamond, too.