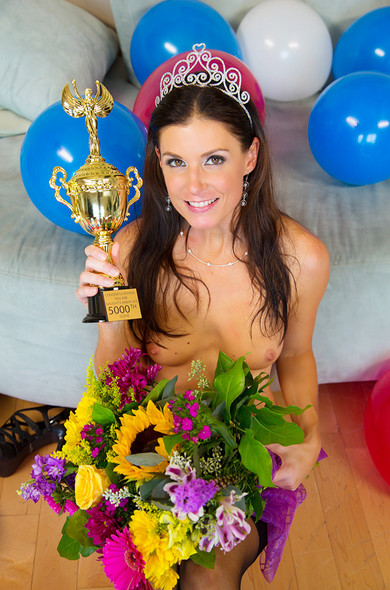 Naughty America has long been a staple of many porn fans' viewing diets. With such notable and highly lauded sites as I Have a Wife, Ass Masterpiece, My First Sex Teacher, and Seduced by a Cougar, the immense network has acted out the fantasies of every guy in America, and has garnered some very approving reviews from yours truly in the process. Now, eight years after the very first Naughty America scene was unleashed upon an audience, the company that claims "Nobody does it better," celebrates a remarkable milestone: it's 5,000th scene.
Thanks to consistent multiple daily updates and years of impressive porn productions, Naughty America has managed to reach its 5,000th scene before plenty of other networks and it's celebrating in style. India Summer, winner of XBIZ's MILF of the Year award for 2012, takes the starring role in this American Daydreams scene and daydream she does. After dinner and a movie, India is all ready to pounce on her husband, but he took a rare moment of solitude to beat off, cum, and fall asleep while she was undressing in the bathroom. Like a supreme dope, he left his iPad lying on his lap as he floated into dreamland. India picks up the tablet, sees that he was watching a Naughty America scene. Sexually frustrated and horny as hell, India gazes at the woman that made her husband blow and starts fantasizing about a career in porn herself.
Approaching India's front door is a Naughty America rep who tells viewers Ms. Summer is in for a big surprise. With flowers, a tiara, and a trophy, not to mention Johnny Sinns, ready to fuck, India is crowned Miss Five Thousand and given the chance to be a pornstar for a day. Not one to fuck around, figuratively speaking, India quickly drags Johnny inside, tears off her blouse and skirt, and proceeds to let her inner slut loose. What follows, dear reader, is a scene loaded with celebratory energy and a joyous exuberance not seen since, well… Ah, fuck it. Check it out for yourself.
Congratulations, Naughty America! You've done us proud.