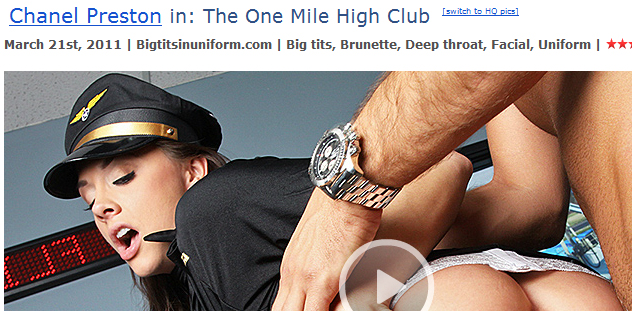 I'm sure plenty of us have found ourselves sitting at the gate, laptop humming away, hoping the latest Bang Bros scene will hurrythefuckup and finish downloading before our boarding group is called, just to make a red eye flight that little bit more tolerable with a 3,000 foot bout of 'bating. And now that some airlines are offering WiFi connections on some of their flights, the temptation to watch Bobbi Starr take on five big, black dicks while surrounded by strangers can be pretty damn hard to resist. Hell, even your humble reviewer, Mr. Pink, has scoped out some brand new scenes mid-flight just to beat a review deadline, but with American and Delta Airlines already blocking adult content on their in-flight connections, what is a horny Frequent Flyer to do?
Sure, you could occupy the lavatory accompanied by your iPad, but prepare for looks of suspicion and derision upon exiting. Yeah, there is a wannabe model in the second-to-back row who could be up for some action but she's probably too pretentious to even consider joining the mile-high club. Of course, there's always the stewardess; those charming and oh so helpful stewardesses. They are, however, working and very, very, very rarely (i.e.: never) fraternize with passengers, regardless of what Chanel Preston tells you.
So, what to do when you've got a hard-on that is only made worse by intermittent turbulence. Hey, here's an idea – hold it in! It'll make your return home or hotel arrival all the more relieving and if you've got a girl waiting for you on the other end, she'll be extra pleased to have you back, fucking like a monster and shooting one of your heaviest loads!