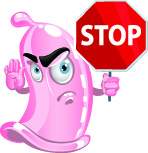 As detailed last month right here at Mr. Pink's, residents of the City of Los Angeles may soon be voting on a ballot measure that would make it impossible for porn production entities to receive shooting permits without guaranteeing that all performers would be equipped with condoms, dental dams, and other prophylactics. As the proposed initiative gathers steam in the lead-up to July's elections, arguments for and against mandated condom usage and the enforcement thereof are becoming more and more contentious. AIDS Healthcare Foundation (AHF) Associate Director of Communications Lori Yeghiayan has claimed that the recently quoted (LA Times, Dec. 19, 2011) $4.4 Million an "estimate for total city and county costs," and far exceeds the actual cost to the city of LA, which she suggests is more in the ballpark of $700,000. (An amendment to the Times article published this comment from Yeghiayan and suggested erroneous reporting of the higher figure.)
Last Tuesday, Jan. 3rd, AHF started a petition drive with the goal of placing a similar measure on the forthcoming ballot in the Los Angeles County elections, casting their influence over a far wider area and encompassing far more of the adult entertainment industry than the initial movement had. Now, once again, that $4.4 Million figure has come back into play, this time as the estimated cost of landing the measure on the Los Angeles County ballot. Where would the money go? Why, presumably to AHF, of course. After all, who else is more adequately equipped and motivated to uphold and enforce a proposed law enacted to supposedly protect adult entertainment workers against HIV and AIDS infections than AIDS Healthcare Foundation itself?
A recent editorial in the Times has aligned that new source with AHF's cause, but with HIV and AIDS infections on the rise within the close by Navajo Nation (as also reported in LA Times; Jan. 4, 2012), it should be clear to the Times' editorial department that a far more pressing matter requiring AHF's attention is quite literally just around the corner.