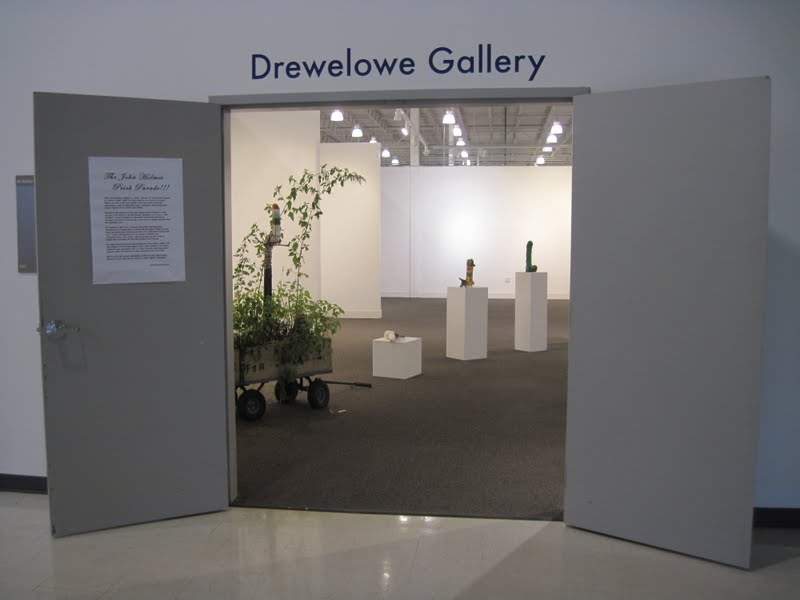 University of Iowa M.F.A. sculpture student Emily Moran Barwick has drawn inspiration from a rather unusual source for her recent exhibition at the school's Eve Drewelowe Gallery: the erect penis of deceased porn legend John C. Holmes. After dying from AIDS related complications in 1988 at the age of 43, Holmes left behind a 2,000-title acting career and a reputation for having the biggest cock in the history of porn. Now with The John Holmes Prick Parade!!! Ms. Barwick is using replicas of a plaster cast of Holmes' member that she first saw when working at a novelty store in Florida to create debate about, as she told the Iowa Press-Citizen, "body ownership and who owns the body and who is licensed to the body."
Sending two dozen plaster penises to contributing artists as far from The Hawkeye State as Miami, Barwick then arranged and exhibited such pieces as the technologically-themed trio iCock, Cockberry, and Swiss Army Cock to gallery attendees. The exhibition, potentially offensive to some, is proudly supported by the university's art department who arranged for the gallery doors to remain closed while the exhibition stood, and marked the entrance with a disclaimer, alerting prudes and neuters everywhere that their delicate sensibilities could be upset by the presence of twenty-four legendary dicks.
Although the exhibition has now closed to the public, interested readers can keep an eye on Barwick's blog to see her latest exclamation point-laden efforts to encourage a dialog about body image, ownership, and commodification.
Or you can just look at the decorated dicks.