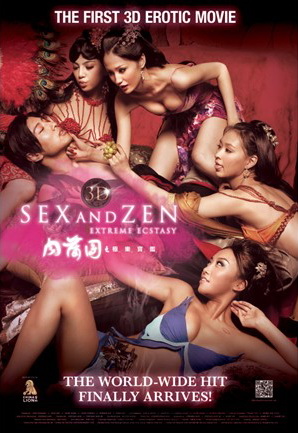 Years ago, back when VHS still reigned supreme, I manned the counter and cleaned the shelves of a video rental store. Wandering into the adult section, as I was wont to do on a daily basis, I stumbled upon an erotic film from Hong Kong entitled Sex & Zen II. Although I was never game enough it myself, the title stuck with me for years. Imagine my surprise then, when a 3D sequel to what I thought was an obscure Oriental skin flick became the highest grossing Category III (18 years and over) film in Hong Kong's history, in addition to beating the tied record held by Avatar and Titanic for highest opening gross, raking in HK$2.79 million over James Cameron's dual takes of HK$2.5.
August 12th finally saw the US release of 3D Sex & Zen: Extreme Ecstasy and, although it's only playing in one theater in the entire state of California – ironically not even in "The Entertainment Capital of the World", Hollywood – the latest installment of the Sex & Zen series is attracting movie goers willing to shed their inhibitions, pay a premium price for 3D glasses, and enjoy a rather corny and cliche adaptation of the ancient Chinese equivalent of the Karma Sutra, The Carnal Prayer Mat.
What about American productions, though? When will we see a theatrical release of an erotic film, either softcore or hardcore, shot in three dimensions on our own shores? Until that eventually, inevitably comes to pass we'll have to content ourselves with Gianna Michaels nude parasailing in the 2010 monster flick, Piranha 3D.