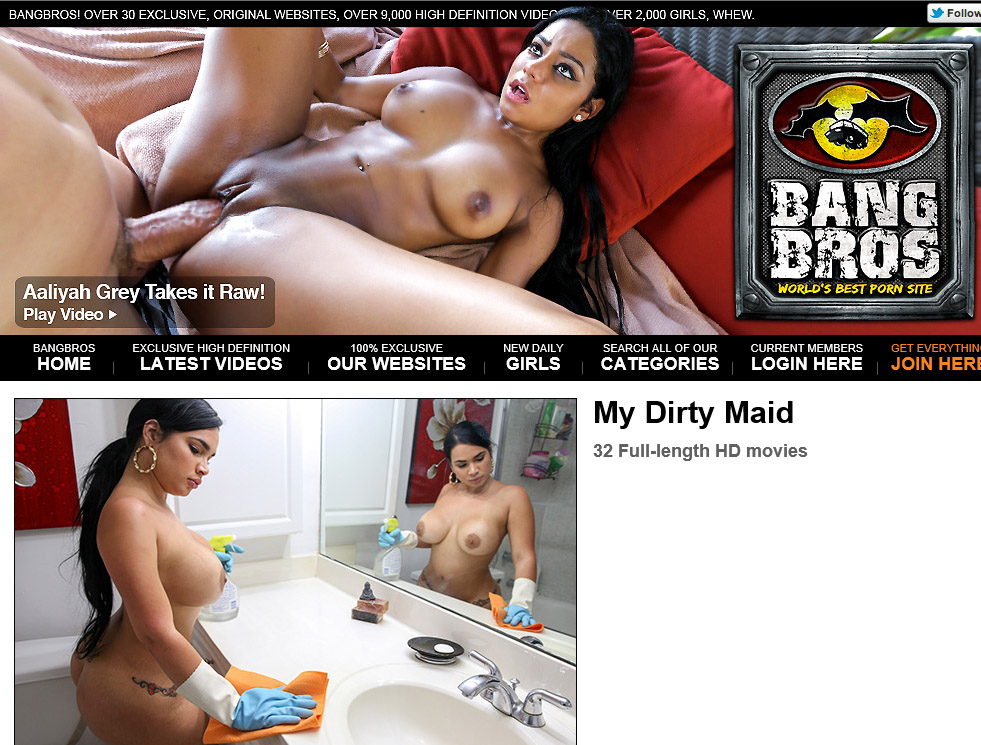 Bang Bros, the creators of Monsters of Cock, Big Mouthfuls, Ass Parade, and the infamous Bang Bus have, over the past year or so, slowly added a few new sub-sites to their notorious network holdings. Since we're currently preparing to give some Bang Bros sites all-new Mr. Pink's reviews, I figured now would be a good time to help you acquaint yourself with some of the freshest new additions to Bang Bros. First up for this week: My Dirty Maid.
Although this particular Bang Bros venture is sure to enrage to PC police and every card-carrying SJW lurking forums and Facebook groups looking for anything that could conceivably be construed as offensive, My Dirty Maid nonetheless proves a near-perfect showcase for the throng of new Latinas talents flooding the scene of late. Online since June of 2014 but taking some time to really kick into gear, My Dirty Maid takes a largely POV look at the life of a lucky guy who just happens to have the hottest home help listed in the Yellow Pages. Whether uniformed or not, desperate for extra money or not, whether they walk in on their boss beating his meat or not, the featured babes soon end up polishing something a lot pinker and warmer than a door knob, using their hands, mouths, and lower pussies with expertise. Sure, some are a little shy at first, but soon they're pleading with "Papi," for another ride. There's some slightly questionable coercion going on here, but it's all acting so nobody's really being exploited for both their janitorial excellence and their moist lower lips.
Spouting flirtatious and filthy words in Spanish or Portuguese (or English), the mostly Latina cast of My Dirty Maid sees the curvaceous and the slim, the teenage and the thirty-something, the eager cocksucker and the shy quiet type all appear here, wander around the house doing various chores, then finally encountering our guy and getting to know him a little better. Aside from Nicole Bexley, Anya Ivy, Adrian Maya, and a few other black girls, it's Latina central here with Sophia Leone, Carrie Brooks, Gina Valentina, Carmen De Luz, and Selena Santana shooting some thorough sexy pseudo-homemade sex tape encounters.
This slideshow requires JavaScript.
So, with a bevy of stunning Black and Latina girls putting down their feather dusters to wrap their rubber-gloved hands around something a lot thicker, and with Bang Bros' impressively vivid High Definition videos on hand, not to mention the huge Bang Bros network surrounding My Dirty Maid entirely, there's only one reason I can think of not to head over to My Dirty Maid and let loose your fantasies of economic dominance as only Bang bros will allow: no broke-as-fuck college-graduate white-girl maids!