About a year ago, give or take five or six weeks, Brazzers announced its first ever woman to an exclusive performance contract. The name scribbled on the dotted line? Madison Ivy. A one-year contract that is apparently set to expire in mere weeks, Madison's deal with Brazzers was to include her very first anal scene, allegedly "coming very soon." Well, one year and a gaggle of impatient and outraged fans later, Brazzers has finally set a date for the arrival of said onscreen-anal-virginity-ditching: today!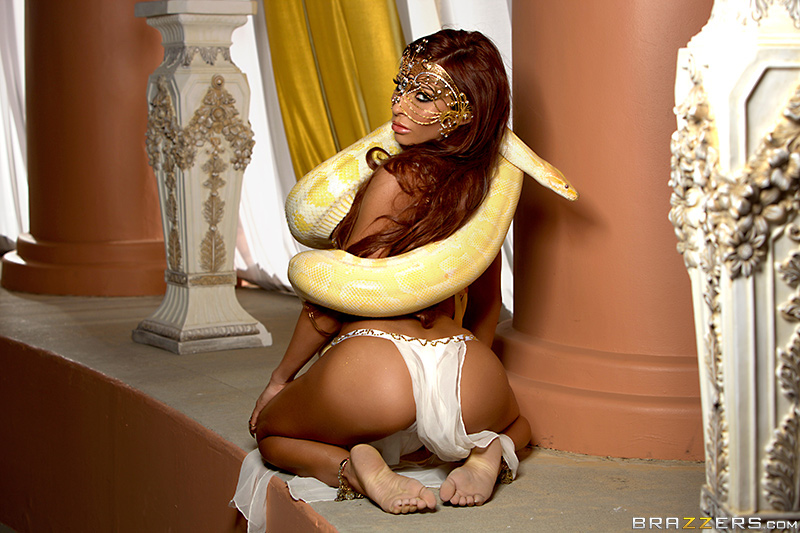 With the highly anticipated anal debut of Madison Ivy now available for viewing, perhaps we should take a look at the reasons for the many months of delay behind this extremely highly anticipated online porn event. (The preview already has over 50,000 views!)
– As Madison notes in the announcement video below, Madison Ivy not only wrote the script for her Brazzers anal debut, she also designed the costumes and selected the talent, asking Mick Blue to do the honors on her "300-meets-Spartacus-meets-Eyes Wide Shut" set.
– A pornstar's skin tone is very important and Madison had to deepen hers (with the help of artificial tanning techniques) from "moderate orange" (#cc9966) to "darkened moderate orange" (#996633). That takes time!
– Although totally swamped with her 2013/2014 Brazzers workload of five scenes, Madison managed to parlay her "exclusive" contract into work for other Mind Geek-owned sites and studios, shooting two Digital Playground features (Erotico 2, No Way Out) and lending her considerable talents to Twistys for a hardcore session, two masturbation scenes and one saucy girl-girl encounter.
– Ever tried to get as devoted a pothead as Ms. Ivy to get off her Spongebob-lovin' ass and open it, as promised, for her fans? Neither have I, but I guarantee it ain't easy and not because pot robs you of your motivation, but because it gives you a plethora of fantastic (and fantastical) reasons to keep your week-long Spongebob marathon going.
– She lives with Heather Starlet; I wouldn't leave the house either.
Check out Madison Ivy's first anal video sample below and witness the fantastical pornographic marvel she has created as a reward for her more patient, devoted fans. There's enough gaudy jewelry, loin cloths, and bedazzled nail art (or are they claws?) to pawn for Detroit's revitalization. Hell, there's even a giant snake getting in on the action!