Condoms: some folks use and love them so much they buy stock in the manufacturer while others become and remain unhappily married just to avoid using them. The latex dick sheaths are one of our most commonly used barriers against the diseases we hate to think a partner is carrying and the unwanted pregnancies that cause emotional turmoil and worse, but they're far from perfect. Sizing issues, discomfort, breakage, leakage, even allergic reactions have all ruined the effectiveness and enjoyability of condoms for many a user and with no truly significant advances in condom design or manufacturing arriving in recent years, it looked set to remain that way.
Enter Charlie Sheen. Since revealing himself to be HIV positive in late 2015, four years after being diagnosed, Sheen has been something of an odd poster child for protecting oneself against STDs and STIs, inadvertently driving up Google searches about condom use and effectiveness when his HIV status made international headlines. Appearing in a promotional video for Lelo, makers of fine sexual aids, Sheen speaks to his status and how it changed his world. Believing infection was simply something that would never happen to him, Sheen subtly admits to irresponsible practices and hopes that he can now urge others to put up with what "may feel like five seconds of inconvenience [but] may prevent a lifetime of potential grief and suffering." And he's bringing a new Lelo product with him, a stark redesign of the standard condom Lelo is calling (for obvious reasons) Hex.
Lelo claims Hex, a more durable and resilient condom that also touts greater sensation, is a bold new vision of condom engineering that address the three main issues with what we've all been using for decades: discomfort, slippage, and breakage. The thinnest and strongest material we have, graphene, lent its hexagonal structure to the redesign, reinforcing an ultra-thing sheath of latex to an amazing degree. Although it looks a little too similar to a penile torture device under certain light, Lelo assures would-be patrons of their IndieGoGo fundraising campaign that Hex is stronger, offers an inner raised design to cut down on slippage and maximize his pleasure, and sports ultra-thin latex panels that apparently conform to the shape of the wearer. Clearly, this is aimed to be the kind of condom that could contain even Clark Kent's eruptions!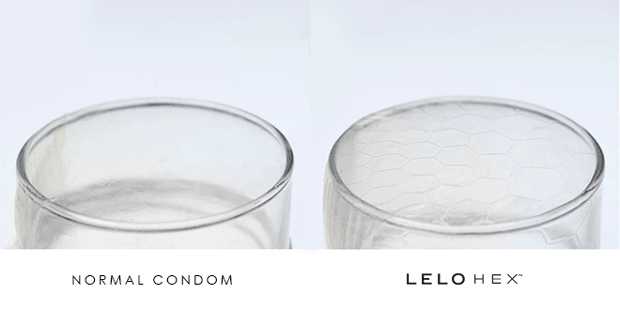 Although Lelo's campaign does focus largely on comfort and pleasure – which, let's face it, should be secondary concerns for condom wearers – the issues of safety also gets quite a few boastful mentions. As it's fitted, Hex's structure tessellates (or conforms to changing shape without inherent structural change) around the wearer's member for a snug and safe fit. A fit even Sheen himself claims to be enjoying these days. A fit he also urges you to try for yourself.