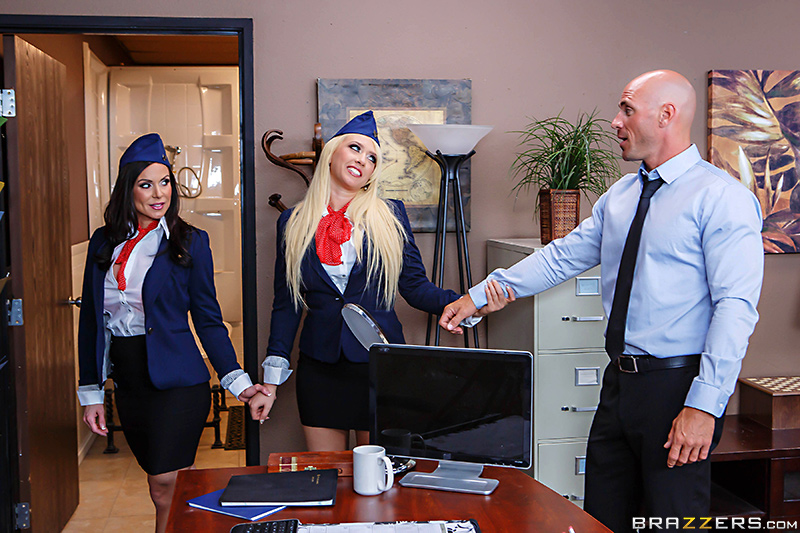 You found the perfect woman – she's intelligent, attractive, has a great sense of humor, and is a deeply sexual being with few obnoxious family members to enter and ruin your life – but there remains one problem: she loves to travel and you're a aviophobic homebody who can't get on a plane post-9-11 unless heavily medicated and heading to Vegas. How to keep the flame burning so brightly when you can't join her on a fucking tour of Central Europe or a trip to Nepal to simultaneously orgasm on a Himalayan mountaintop or receive the blowjob of your life behind Musee d'Orsay, now that's a challenge you'll be thrilled to hear can be tackled with sex.
According to therapist and former airline pilot, Tom Bunn, one key to dampening the anxiety caused by airplane travel could be sex. Bunn, who created the SOAR program to address flight phobias, told of a male client whose flying anxiety made every trip miserable, until he spent one pre-flight evening between the thighs of a newfound sexual partner, staying up late into the night to enjoy their physical pairing. The result was an anxiety-free flight, Bunn says, brought on by increased levels of oxytocin, a nonapeptide hormone generated in the hypothalamus to quell fear and trepidation, replacing them with calmer, more satisfied feelings. Sparked during foreplay, oxytocin offers what Bun calls a "sexual afterglow" and this can be recalled during times of stress, countering anxious thoughts and traumatic memories with, say, the mental image of your partner smiling back at you after roaring through some mighty wild sex.
Unfortunately, Bunn isn't actually proposing sex on airplanes, instead suggesting the an enjoyable romp the night before a flight should be enough to tackle any unsettling ideas about air travel you might have. And, if not, just make sure to time your lavatory entrances well and don't be discovered getting it on at 28,000 ft – at least not until you've both finished and basking in the toasty afterglow.
Kagney Linn Karter and Kendra Lust in Tittyfuck Airlines @ Brazzers