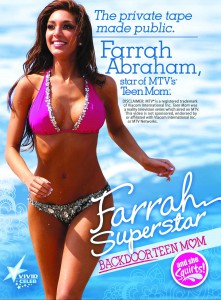 Hollywood and the porn industry aren't as separate as many would like to believe. Aside from geographical proximity, there's many other factors shared by both industries: an obsession with physical beauty, market dominance by a select few studios, a growing piracy problem, and a reputation for filling the world with puerile nonsense.
There's also a few more direct commonalities best exemplified by the rise of celebrity sex tapes. And nobody in porn is better equipped to discuss the "private" hardcore recordings of minor (very, very minor) celebrities than the man who ushered them into homes around the world: Vivid Entertainment founder and co-chairman, Mr. Steven Hirsch. Speaking to Supercompressor, Hirsch laid out his opinion on which pseudo-celeb fuck-fests were the most influential and, dare I say, important.
Predictably, tapes featuring Kendra Wilkinson, Kim Kardashian, Farrah Abraham, and Tila Tequila all make the list, but notably absent is arguably the most famous sex tape of all time: 1 Night in Paris. Originally released by Red Light Video, the video that thrust Ms. Hilton into our hearts and homes doesn't strictly count as a Vivid release in Hirsch's eyes, not like Backdoor to Chynna starring the wrestler of the same name or The 11th Hole, which starred Tiger Woods' real-life mistress Joslyn James, both of which Vivid had exclusive rights to from the beginning, even before the shoot… Wait a good gosh darned minute!
Of the ten titles noted by Hirsch as paragons of celebrity sex tape culture are not the private homemade kind at all, but faux amateur productions that, from the get-go, were clearly intended to launch the porn careers, however short-lived, of their stars. Farrah Abraham Superstar: Backdoor Teen Mom co-starred the biggest male pornstar on Earth, Chynna's feature was the result of her pitch to Vivid and featured standard porno production values, Montana Fishburne was gearing up for a longer career in adult before her famous pops put an end to it, and Real Housewives of Atlanta spin-off Mimi & Nikko: Scandal in Atlanta was an obvious cash-grab attempt at further infamy, and Kendra Exposed was so clearly a publicity stunt that even Ms. Wilkinson's tears over its release were declared as fake as a Cetaphil Lotion cumshot.
Call me a cynic, but I'll take genuine amateur porn, for all its shitty camerawork and no-name performers, over a phony "private" celebrity vanity production any day.