Once news broke that Joanna Angel would be stepping back from her duties as Chief Everything Officer of Burning Angel, the company she co-founded back in 2002, to take on performing and directing gigs at other studios, many fans started dreaming up their wish lists of where they'd most like to see Joanna go next. Once her affiliation with Adult Time was cemented, it was clear the new super vendor would be the perfect place for just about any Angel-directed venture. Leave it to Ms. Angel to create something virtually unheard of, almost unimaginable but instantly recognizable as a necessary evolution in porn.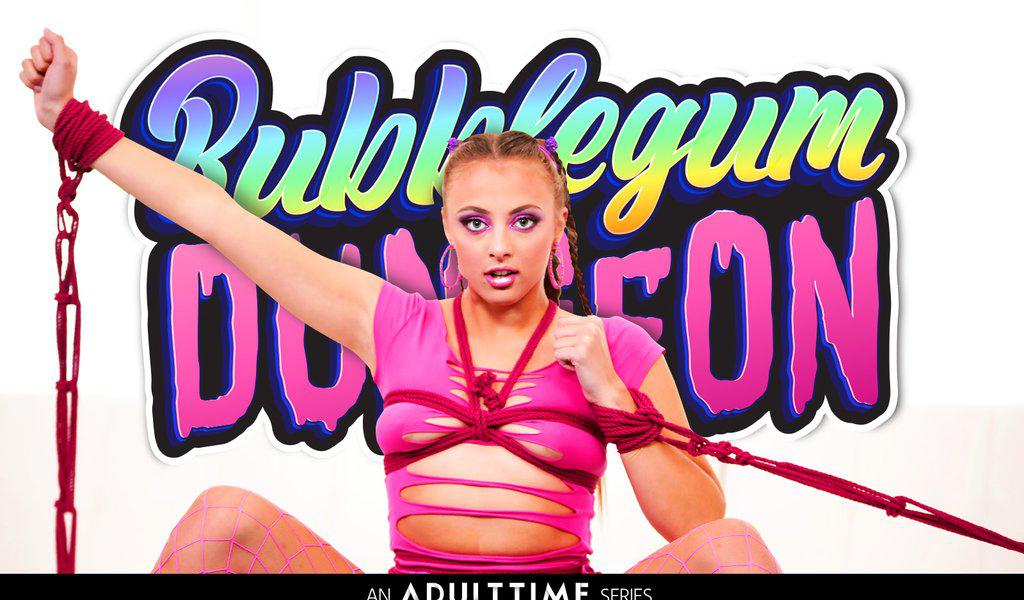 Not much is yet known about the forthcoming Bubblegum Dungeon mini-series, let alone its exact release date. Set to debut on Adult Time sometime this fall, Bubblegum Dungeon sees Angel helm the perfect amalgamation of the cartoonish and the kinky, two parts of her porno personality that made Burning Angel such a groundbreaking success. Taking your typical dungeon-set BDSM scenarios and ditching the black leather, the studded straps, and the overtones of ritual sacrifice to instead thrust today's most daring young BDSM performers into a hyper-colored, sex-positive, fantasy fuck-fest, Angel and her colleagues Bree Mills (executive producer) and Frank Stacy (producer) could be bringing about a resurgence of interest in BDSM porn. Devoid of the trappings of darkness and abuse, this new brightly colored carnal candyland will see Gia Derza lead a cast of daring subs as they aim to change the perception of what bondage is really, truly all about.
Bubblegum Dungeon arrives at Adult Time this fall.