Naughty America has been at the forefront of porn's most promising tech developments for years. From its early efforts in live streaming solo pornstar shows to the introduction of 4K Ultra-HD videos and Virtual Reality episodes, the legendary network is arguably porn's most aggressive adopter of new tech. With advances in 3D CGI modeling making their way to laypeople's computer screens, Naughty America has moved into custom user-created animated sex and now invites you to try your hand at playing CGI god with some saucy 3D models. Naughty America's 3D scene creator is now live and already showcases dozens of wild user creations.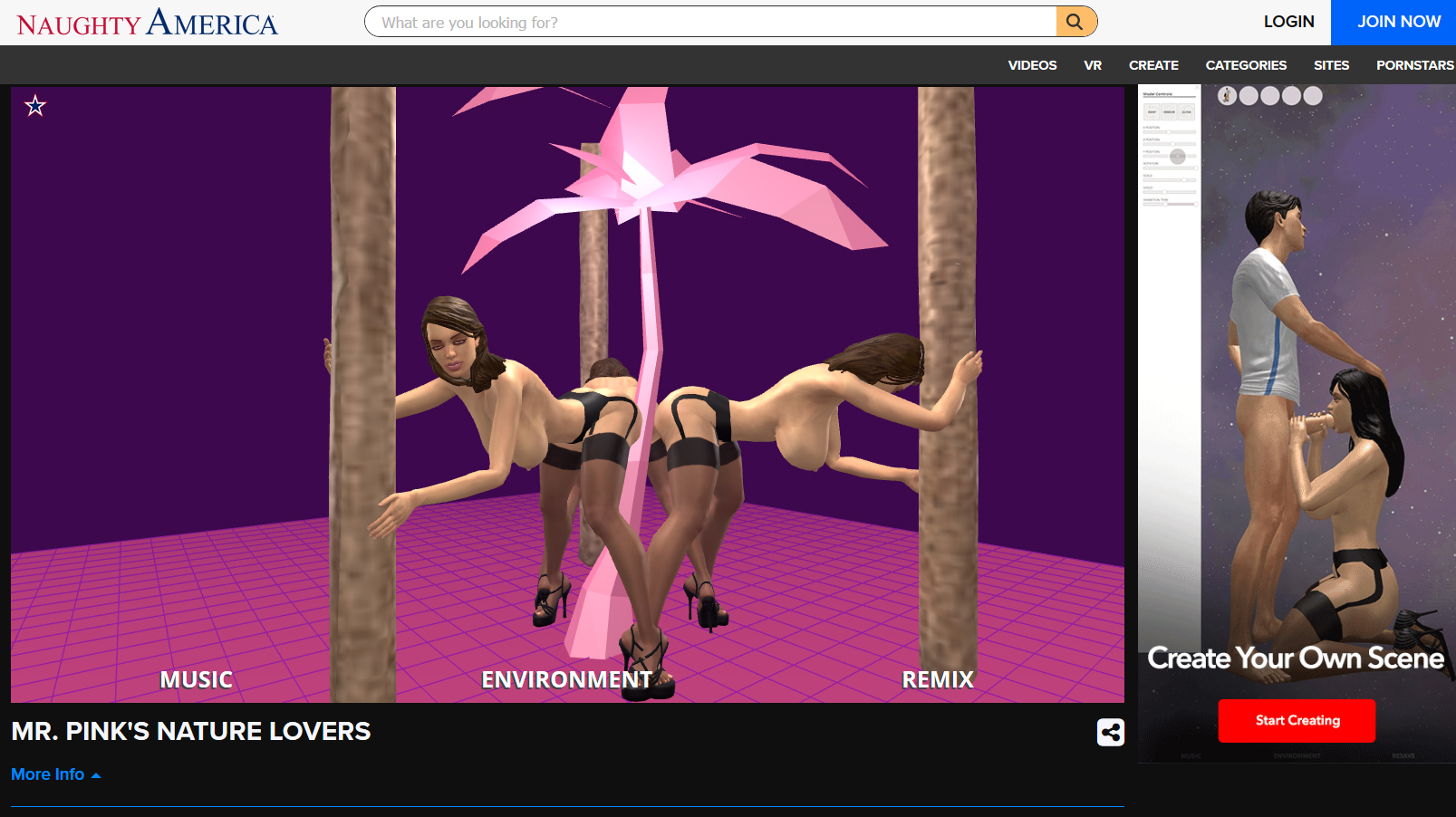 Hitting Naughty America's new creative hub brings you a collection of fan-made 3D CGI sex scenarios that use a handful of female and male models to place bodies wherever fans like, doing whatever fans want – within reason. A blonde super heroine can be placed on all fours for rear-ending, on her knees for oral action, and in various sultry dance and stripper-ish poses, as can a shapely brunette. The dick work comes from a pair of guys, one black and imposing, the other white and a bit more modest in his machismo, and they're even given a few poles and chairs to help maintain their balance mid-fuck. Yes, folks, you can create hardcore acts here, rendered in 3D for your 360° viewing pleasure. Animations are short so you're effectively creating something akin to a animated porn GIF but that's not to say Naughty America's 3D porn studio isn't a load of fun!
While customization options remain limited to two distinct female models, two distinct males, male/female pairs, a pool table and a palm tree, and while the body types are essentially the same for each gendered model, users can augment their creations with a range of environments and soundtracks.
Considering millions of people around the world are currently self-isolating due to the spread of Human Coronavirus COVID-19, we leaned towards a free natural expression of excitement and arousal in creating the first 3D clip for sharing right here on Mr. Pink's. A pink palm tree stands in the center of three women, all identical. Bent over to holding a pole for stability, the ladies throw their rears back against the palm tree trunk. Surely too uncomfortable for real life activity, this 3D scene creator takes such an act and not only makes it visible but (kinda sorta) believable. Naughty America's 3D scene creator is laden with sci-fi style and cartoonish elements but that's all part of the appeal. Why limit yourself to reality when you've got highly customizable 3D characters at your disposal?
Once your scene has been created, your characters placed and music selected, Naughty America asks you to submit your effort to their growing fan-made archive, and to share it wherever you like (as long as it's audience-appropriate). You can also remix the creations of others, following their lead or completely rearranging their work. Go nuts and modify Mr. Pink's Nature Lovers if you like: throw some cocks in there or ditch the brunettes for blondes; the choice is yours and you have Naughty America's devotion to advancing porno tech to thank.