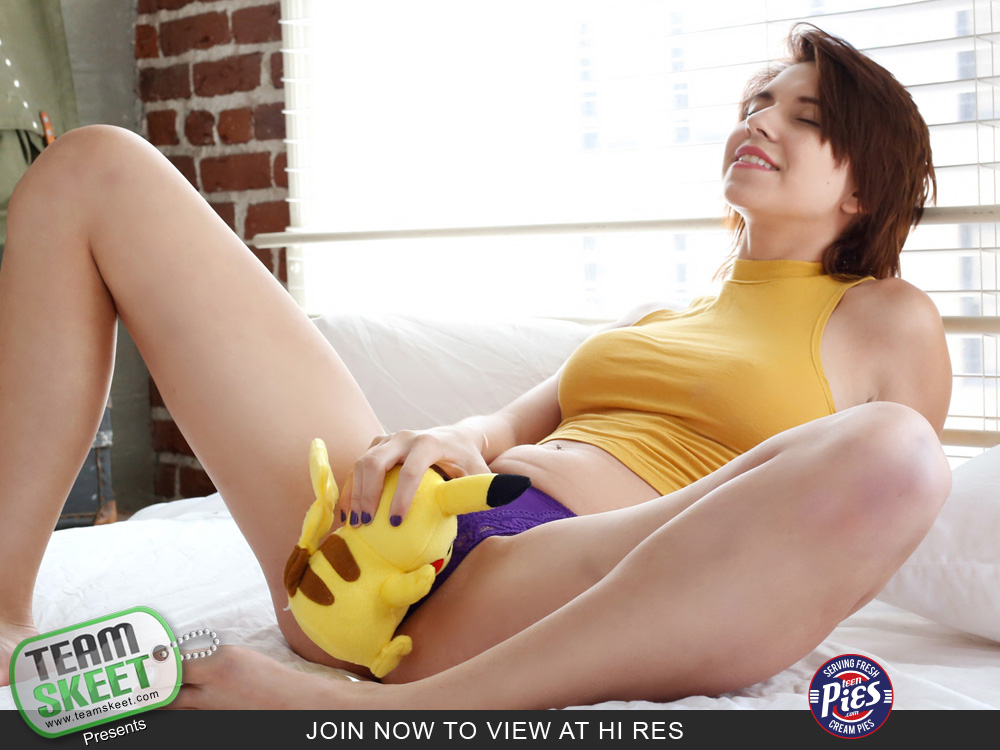 Quit Pokémon Go for just a second and check this shit out! Not only has the latest iteration of the pocket monster phenomenon led to a larger game playing audience than any earlier Pokémon release, it has sparked a worldwide obsession that has Wall Street bankers and McDonald's workers on the picket line both using their smart phones to ensnare the little digital critters. Even adult webcam performers leapt onto the Pokémon Go bandwagon, using cosplay and screen-sharing to enjoy the game with their fans. Now, naturally, it's the mainstream porn world's turn.
RK Prime, a newish Reality Kings site with no clear premise, unleashed its Pokémon parody on July 30th, an outdoor scene that saw Xander Corvus on a hunt for "Pikapuss" (Annika Eve in her second scene) and, upon finding her, fills her mouth beneath a tree then pulls her inside to slide into her yellow-outfitted snatch as she cries "Pika! Pika!" in pleasure.
Team Skeet also joined in the fun with a pair of Poké-focused scenes for Exxxtra Small and Teen Pies and starring Freya Von Doom and Cece Capella respectively. Freya arrived first, landing July 28th in her bright yellow "Pikahoe" outfit, ducking and dodging an eager trainer before respawning in his living room and exposing her very much pink and human orifices. For a change of pace, Cece Capella laid around in her Teen Pies scene, staring at a Pikachu plushie and daydreaming about catching one of her own. After dozing off, Cece wakes up to a real, living, already erect (but curiously human male) Pikachu who proceeds to bring her Poké-fucking fantasies to life.
You would think that with Pokémon Go roaring up the app charts and distracting every second pedestrian under the age of 55, this would be the prime Poké-parody era but, really, all three of the above listed scenes were outdone months and months ago by two distinctly different takes on the gaming phenomenon. Back in January of 2015, Cosplay Babes had busty British wonder Harmony Reigns dress up in her best Ash cap and grab her Pokéballs for an interracial hardcore fuckfest. It's WoodRocket, the comedy-porn hybrid studio started by Lee Roy Myers, that still rules the porno Pok é-parody roost, though, thanks largely to the studio's devotion to absurdity. Starring Rizzo Ford as Dikachu, a squirt-shooting female monster whose trainer, Gash (Tyler Nixon) carries quite an impressive package. Badly acted with questionable costuming and even a rather dire script, Strokémon takes the cake because it pushes further than simple cosplay and reimagines the Pokêverse as an utterly perverted playground for all kinds of sexual creatures, human and otherwise, without getting too close to some bizarre fucking fantasies. Dikachu might not look like an electrified rodent exactly, but you wouldn't confuse her for 100% human either.
There'll no doubt be more Poké-themed scenes and parodies on the horizon now that Pokémon Sun and Moon has been announced, so keep a beady eye trained at Mr. Pink's for more info and analysis as they appear.