All too often these days it seems the global for audience gets into a collective tizzy over a brand new starlet who shows ample promise and has an awesome debut year before "retiring" to the self-shot private custom clips world or an attempt at the straight life. Everyone falls in love and lust with someone new and captivating then almost immediately start clamoring for her return, often annoying the shit out of the ex-performer on social media and destroying any chance of a comeback.
Mia Khalifa started shooting hardcore in mid-to-late 2014 and immediately grabbed audience attention and headlines not only for her dark eyes and curvaceous figure, but for her ethnic background. Born in Beirut, Lebanon in 1993, Khalifa moved to the US in 2001 and became international news as "the hijab porn star," performing a now classic threesome with Julianna Vega and Sean Lawless in which both she and her "step-mom" wore traditional Islamic headwear. Khalifa's porn career didn't last long and she's now a private citizen, which is presumably why Bang Bros turned to another young hotshot for a kinda, sorta sequel to Mia Khalifa is Cumming for Dinner.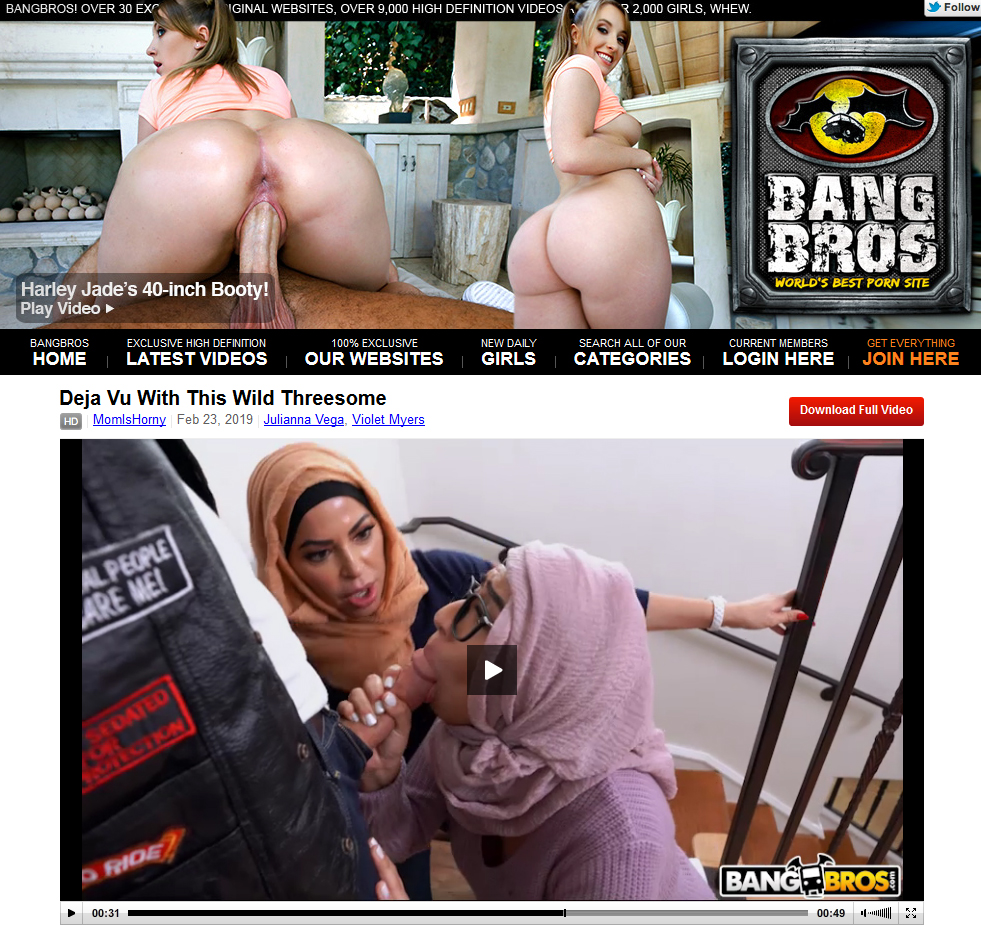 Violet Meyers features the same long dark hair, strong eyebrows, and luscious curves as her predecessor but throws so much more enthusiasm into her trio with Mr. Lawless and Ms. Vega that the name Mia Khalifa should now shuffle off into total obscurity. Having only been active in adult entertainment for a year at most, first camming at Chaturbate under the name thickvioletviolence then embarking on a whirlwind romp through hardcore porn's hottest properties.
Landing at BangBros this week under the title Deja Vu with this Wild Threesome, Violet joins her returning co-stars in adding another notch to Sean's conservative-Muslim-mother-daughter-duo belt. Again the hijabs are employed but it remains to be seen if the blossoming career of Ms. Meyers will reach the levels of infamy and controversy as her predecessor.
(Let's hope, at least, that Violet's social media isn't inundated with death threats from cowardly fundamentalist hypocrites claiming authority over women's bodies and sexualities, 'cause that's a real bore.)