To anyone of legal drinking age (and likely younger), New Year's Eve is the most serious partying opportunity of the calendar year. Whether spent getting blasted in the company of close friends or roaming around with a wingman on the prowl for a foxy female reveler or two, most guys between, say, 19 and 45 throw themselves into NYE with a fervor rarely seen outside championship sporting events. And the women, well, there's enough ultra-confident female showboating on December 31st that the midnight moment is sure to provide them with plenty of options, should a kiss be required. Few parties come close to those produced for our adult entertainment, though, and the impending arrival of 2019 saw the porn world throw a few absolutely killer parties in our honor. Not content with duos, these trios and groups make for the perfect post-NYE party recap fap.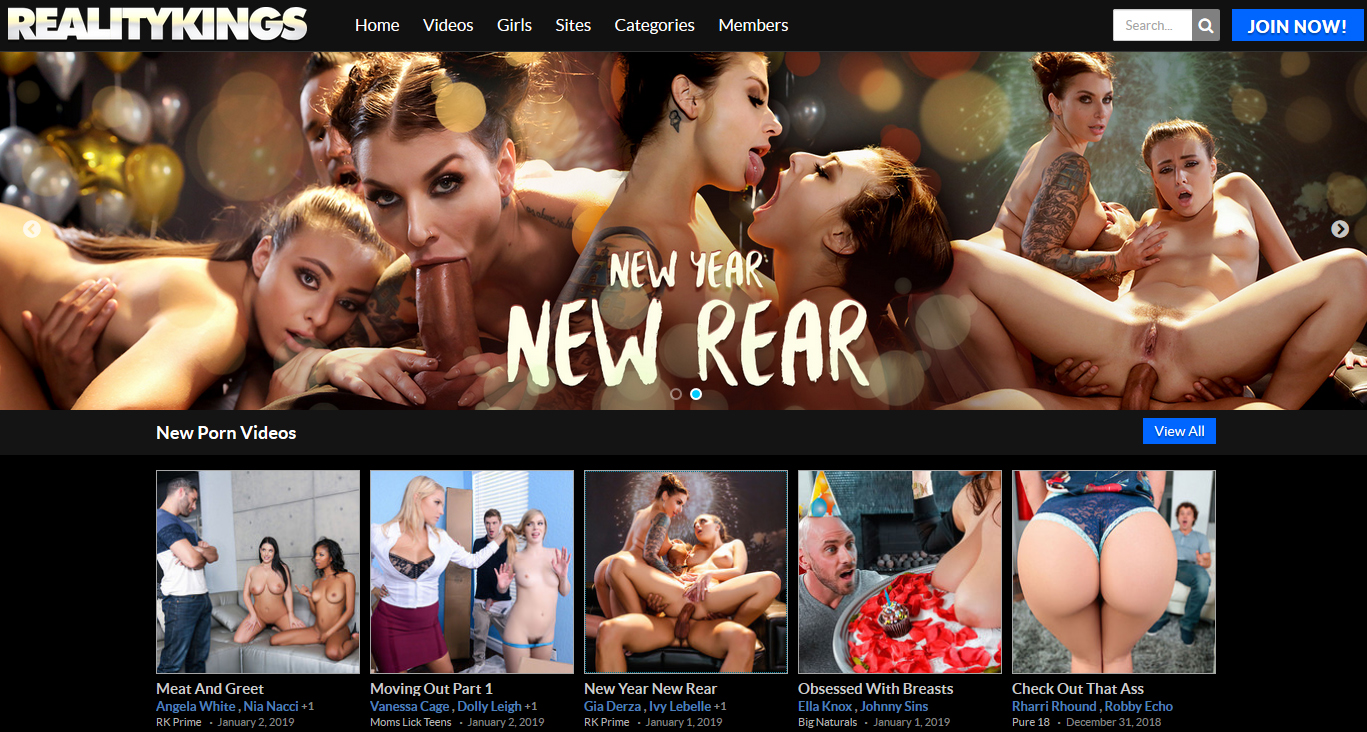 Always up for a wild night out, Reality Kings, the home of party-porn classic In the VIP, gave us VIP passes to two thoroughly exciting soirees this NYE. Landing first at Moms Bang Teens, Nubile New Year saw sexually frustrated cougar Janna Hicks left alone by her sleeping husband, only to be disturbed by strange sounds from downstairs. Turns out her stepdaughter, Kali Roses, has chosen to ring in the new year by blowing her BF in front of their friends! Turned on by such unrepentant sluttiness, Ms. Hicks kicks out the partygoers so she can have the young couple all to herself.
Two of 2018's breakthrough newbies, Gia Derza and Ivy Lebelle, also dropped by Reality Kings – RK Prime, to be exact – to give Alex Legend one hell of a party to round out his 2018. True to its title, New Year New Rear takes advantage of its two curvaceous stars by not only shooting plenty of edge-lit riding and doggy shots as they share their new year dick, but also by allowing Alex anal access to both. The firework backdrop should, if you're a fan of these two sultry queens, mimic your arousal in this scorching anal encounter!
If your idea of a perfect NYE party includes a topless champagne drenching of three nubile foxes followed by an equally messy triple-facial, BFFS is your party HQ! New Year's Cumdown sees Chloe Temple, Paris White, and Liv Wild gobsmacked by some rich assholes Hollywood Hills mansion. As he toasts their health, they let the mood overtake them, strip down, and lead their baller host to his bedroom for a NYE that's bound to change a few friendships.
Whatever you ended up doing to celebrate 2019's arrival (and regardless of how it measures up against these incredible porno fantasies), we at Mr. Pink's hope it was a blast and that the upcoming year is filled with minimal pain, ample pleasure and plenty of the world's best porn!