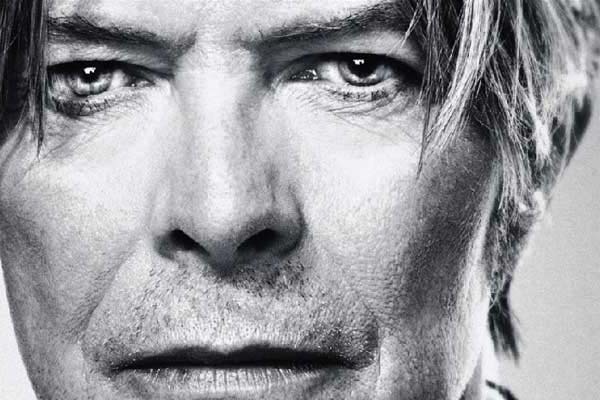 The recent death of musician/songwriter/actor/legend/space oddity David Bowie last week sent the music-loving world into mourning and, while the other recent rock 'n' roll deaths of Motorhead's Lemmy Kilmister and the Eagles' Glenn Frey also shook many of us, nobody had the effect that Bowie did. One crucial element of Bowie's longevity and resounding influence is sexual. Declaring himself gay in 1972 then revising his identification to bisexual four years later, Bowie eventually regarded himself as a closeted heterosexual, someone who flirted with homosexuality and homoeroticism as a means of "flout[ing] moral code." It was widely reported, however, that Bowie had an sexual affair with Mick Jagger during the late-60s and early-70s, lending a certain amount of credibility to his flirtation and identification with homosexual and bisexual culture and practice.
New York singer Ava Cherry claimed to have been the "filling" in a Bowie/Jagger "cookie" and Bowie's first wife, Angie, famously claimed to not only have found her husband in bed with the Rolling Stones singer, but to have had one of the most blasé, indifferent reactions a wife could have: she made them breakfast. The two British singers collaborative 1985 hit 'Dancing in the Street' also raised questions about the truth of Bowie's sexuality (and, less so, Jagger's) after the pair spent a good deal of the music video's runtime nose-to-nose writhing about in place.
Oh, and then there's his alien penis and nipple self-tweaking habits.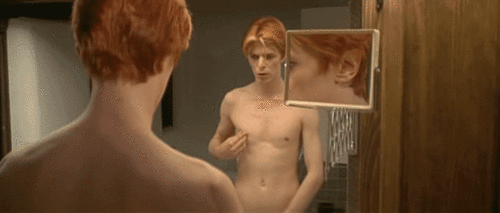 In Nicolas Roeg's 1976 film, 'The Man Who Fell to Earth' Bowie plays a humanoid alien, Thomas Jerome Newton, who seems to spend half the film devising water transportation devices and the other half stark raving naked, touching his humanoid form in front of a mirror, and, as Mr. Man (the all-male Mr. Skin) notes, "surrounds his star with at least five women who are willing to show indisputable proof of their gender." And, hey, if you've ever wanted to see the bare asses, penises, and scrotes of Bowie and legendarily cantankerous actor Rip Torn in the same movie, The Man Who Fell to Earth is it! While Bowie never showed his dong on film again, his backside made another notable appearance in the 1983 vampire flick, The Hunger, in which Bowie played the blood-sucking husband of Catherine Deneuve and shed his clothes once more.
For me, however, David Bowie's sexual influence and power was never as subversive or as powerful as in Jim Henson's 1986 fantasy film 'Labyrinth.' Bowie starred as evil goblin king Jareth, known for his cruelty, his roguish charm, his extremely tight tights, and the giant package stuffed into his pants. If the 'Labyrinth' was never part of your early viewing, here's what you've been missing: Crotch Magic.
R.I.P. David Bowie – 1947-2016