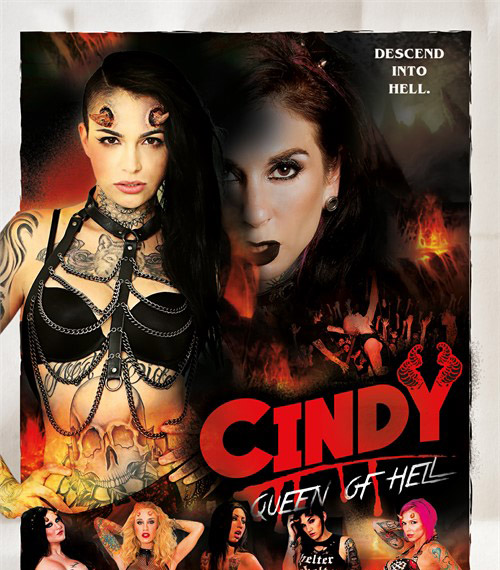 As Halloween approaches every year, the entire city of Los Angeles seems to buzz with enthusiasm and anticipation, both for the long-standing traditional debauchery the festival now encourages, but also the creative element most commonly associated with the often elaborate costumes revelers dress themselves in as a means of escaping the confines of their everyday reality. Few creative icons in Hollywood have shown as deep an appreciation and love for Halloween than the one and only princess of punk-porn herself, Ms. Joanna Angel. Along with her Burning Angel cast and crew, a family really, Joanna has crafted many memorable adult epics specifically for the Halloween season and this year, well, this year they've put their nasty little heads together and come up with something truly devilish.
Cindy Queen of Hell, starring Leigh Raven in the title role and a cast of Burning Angel regulars, tells the story of Cindy and her mother (Joanna Angel), the elder having some 21 years earlier conceived her daughter with the devil himself (Xander Corvus). Now that Cindy has reached adulthood, she's faced with a choice: remain on Earth or join her pops to rule the underworld.
As has proven to be the case in the past, Burning Angel throws everything it can into each of its major epics, Cindy's tale being no exception. From comically tacky effects (a BA specialty) to extensive demon makeup that turns Sarah Jessie, Anna Bell Peaks, Lily Lane, Nikki Hearts, and Ophelia Rain into ravenous netherworld nymphs hell bent on turning Cindy into the daughter her daddy always hoped for. For us, the home viewers, that means just as much, if not more utter sexual insanity from Joanna and Co. Ms. Angel DPs women with her demon beau, takes two satanic cocks at a time,
One part even the most ardent Burning Angel fans may have missed is footage torn from the film's live concert scene in which Satan himself fronts a dark-wave band and performs the original song Wake Up in Hell, capturing the attention of a certain pink-and-black-haired woman in the front row.
Unveiled to Burning Angel's online subscribers over the last two weeks and now online in its complete five-part form, Cindy Queen of Hell has also hit the stores in DVD form, proving evil knows no format restriction.