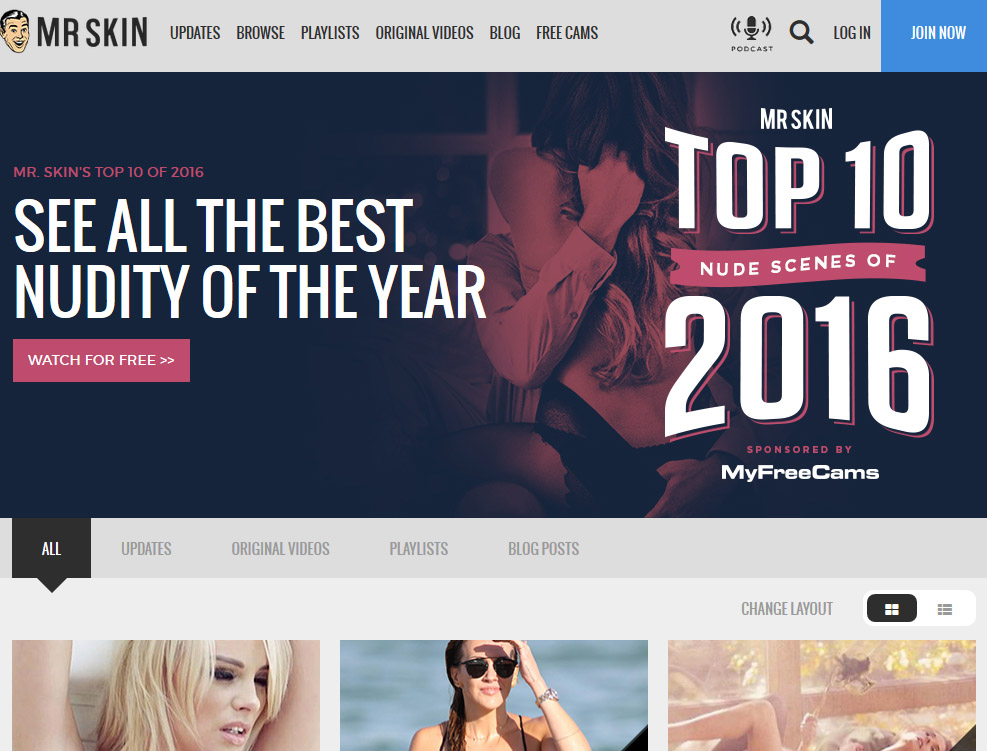 For many, 2016 has been one disaster after another. Cultural icons seemed to kick the bucket en masse, taking away many shining lights of our entertainment-addicted lives. Mr. Skin, intrepid pointer-out of celebrity nudity, once just female but now also male, takes to his blog roll around this time every year to recap the best and most beautiful appearances of naked female celebrity skin on the small screen. And, thankfully, this year delivered some treats that could help reinvigorate your interest in 2017.
Mr. Skin's 2016 Top Ten sees notable names and almost-complete unknowns share list space on shows for HBO, Netflix, Starz, and other networks, confirming that TV is indeed getting more raunchy and risqué with every passing season. Still need proof to get you back on the sofa? How about these ten skin-baring turns from Hollywood sex symbols both legend and debutante?
Chelsea Handler is rarely shy about baring her naked body and this season of Chelsea was no different, seeing the host take a topless dip in a Russian bath house. Lina Esco of Audience Network's MMA drama Kingdom took the ninth spot thanks to her wild and numerous sex scenes. Ruby Modine, daughter of actor Matthew, followed in her dad's nude-friendly footsteps in Shameless for Showtime, which also saw Sasha Alexander and Sherilyn Feen ditch their duds. Cinemax's original series Quarry showcased Jodi Balfour in what seemed like an abundance of sex scenes baring her breasts and butt. Ashley Green of detective drama Rogue got naked alongside Thandie Newton and Kira Clavell, earning her a spot at #6.
Game of Thrones is well known for its gritty violence and copious sexual activity, some of which involved Eline Powell and her perfect pair of bared breasts. Arguably the most famous name on Mr. Skin's 2016 list, Olivia Wilde stepped from her costumes in HBO's massively ill-advised music industry drama Vinyl, at least giving viewers a strong reason to keep tuning in. The top three places on the list went not to individual actresses but to the shows that host them: HBO's Westworld remake saw plenty of onscreen flesh from Evan Rachel Wood, Ingrid Bolso Berdal, and Thandie Newton (again); Joe Swanberg's indie drama Easy delivered more sex than many erotic movies, bringing the bods of Malin Akerman, Kate Micucci, Elizabeth Reaser, Aislin Derbez, and Emily Ratajkowski to the screen. Somewhat predictably topping the list is a show that, had it not featured plenty of nudity and blatant fucking, would have gone unwatched by millions (more). The Girlfriend Experience, based on the Steven Soderbergh movie starring Sasha Grey, served up many salacious moments starring Riley Keough (Elvis's granddaughter!) and a handful of awesome indie actresses.
For the full rundown on who placed where and why, check out Mr. Skin's Podcast. And, hey, while you're there, why not consider a membership to the greatest celebrity skin venture ever embarked upon?